Strawberry Rhubarb Crisp Bars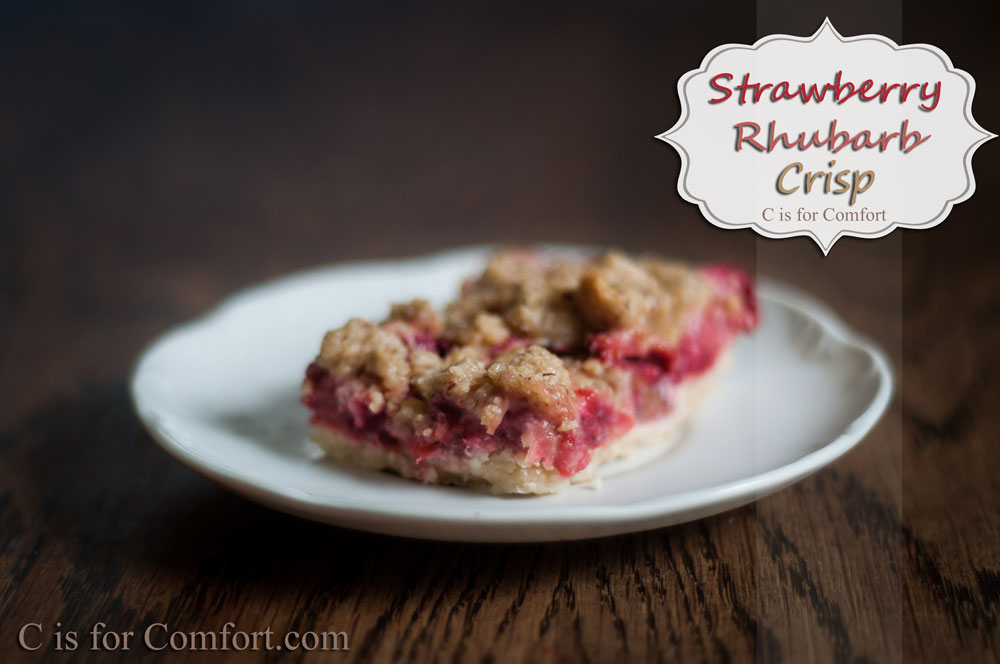 When I saw rhubarb at the farmer's market, I immediately thought of my Grandmother.  As a child, I would often snack on rhubarb from her yard.  This will be the first year I get my rhubarb from the farmer's market instead of my Grandparent's garden, a bittersweet moment.
After I brought the rhubarb home I thought immediately back to my childhood days again.   My Father would always make a delicious rhubarb crisp.  Unfortunately my Dad's recipe was not gluten and oat free.  Determined to have one of my favorite childhood desserts, I set about scouring the internet for a decent alternative.  A few alterations later and voila!
Strawberry Rhubarb Crisp Bars
Serves 12-16
Shortbread Base
2 sticks unsalted butter, room temp
3/4 cup brown sugar
2 cups gluten free flour mix
Crisp Topping
1/2 cup gluten free flour mix
3/4 cup brown sugar
1/2 cup almond meal
6 tbsp unsalted butter(cubed about 1/2 TBSP chunks)
Strawberry Rhubarb Center(Prepared Last)
12 ounces of strawberries
12 ounces rhubarb
2 tbsp sugar
1/4 cup gluten free flour mix
Shortbread Base
Preheat over to 325.  Grease 9×13 pan, line with parchment paper, grease again.  Blend butter and sugar well.  Add in flour until smooth.  Press dough into pan.  Bake for 25 minutes.  Remove from oven.  Increase over to 350.
Crisp Topping
Blend flour, brown sugar and almond meal.  Add butter and mix until crumbly.  Chill in refrigerator.
Strawberry Rhubarb Center-Make Last
Chop rhubarb into 1/2 inch pieces.  Quarter strawberries.  Toss with sugar and flour.  Immediately spread over shortbread.  Use hands to crumble crisp topping over strawberry rhubarb mixture.  Bake for 25 minutes.  Turn off over and allow to remain in oven for additional 5 minutes.  Remove from oven to cool.  Once pan is cool, you have two options.  1.Refrigerate for more solid bars to transport and display for a party or 2.Eat immediately if you enjoy them warm!  Add a scoop of vanilla ice cream.  Enjoy!