Fun Things To Do, At Home, Outside, In Summer
What a title!  This is the first in a series of fun things to do.  I plan on posting many more for all the seasons.  I'm dividing these up specifically so that it's easy to find something fun to do, no matter the circumstances.
For this part in the series, I'm focusing specifically on fun things to do, at home, outside, in summer.  I don't know about you, but some of my best memories of childhood take place outside.  I can remember running through the streets with all of the other kids on my block.  We were completely unsupervised and free to use our imaginations.  I honestly can't remember my Mom guiding our play.
Unfortunately, in today's world, it is not safe to let the kids run free and wild outside.  Sadly, I've heard many stories in the news about parents being investigated by CPS if children are allowed to walk to the park themselves.  I know that in today's world, children are being kidnapped and sold, so a simple walk to the park is a thing of the past.  If you're like me, you want your babies to be safe AND have fun.  So this means that the kids might be contained to the yard.
Usually, I let my kids outside to play on the trampoline and all the neighborhood kids will come running over.  However, there are days when no friends can come to play.  If this is the case, I turn to my handy list of things to do.
Here is a free summer fun printable.  I like to keep mine inside a plastic protector sheet inside a binder.  I've seen a lot of fun ideas about putting the lists on popsicle sticks and the like.  Although that idea is neat, for me, it just means a lot of work.  Not to mention more clutter and the chance that the kids will lose, break, eat, leave lying around the house, etc.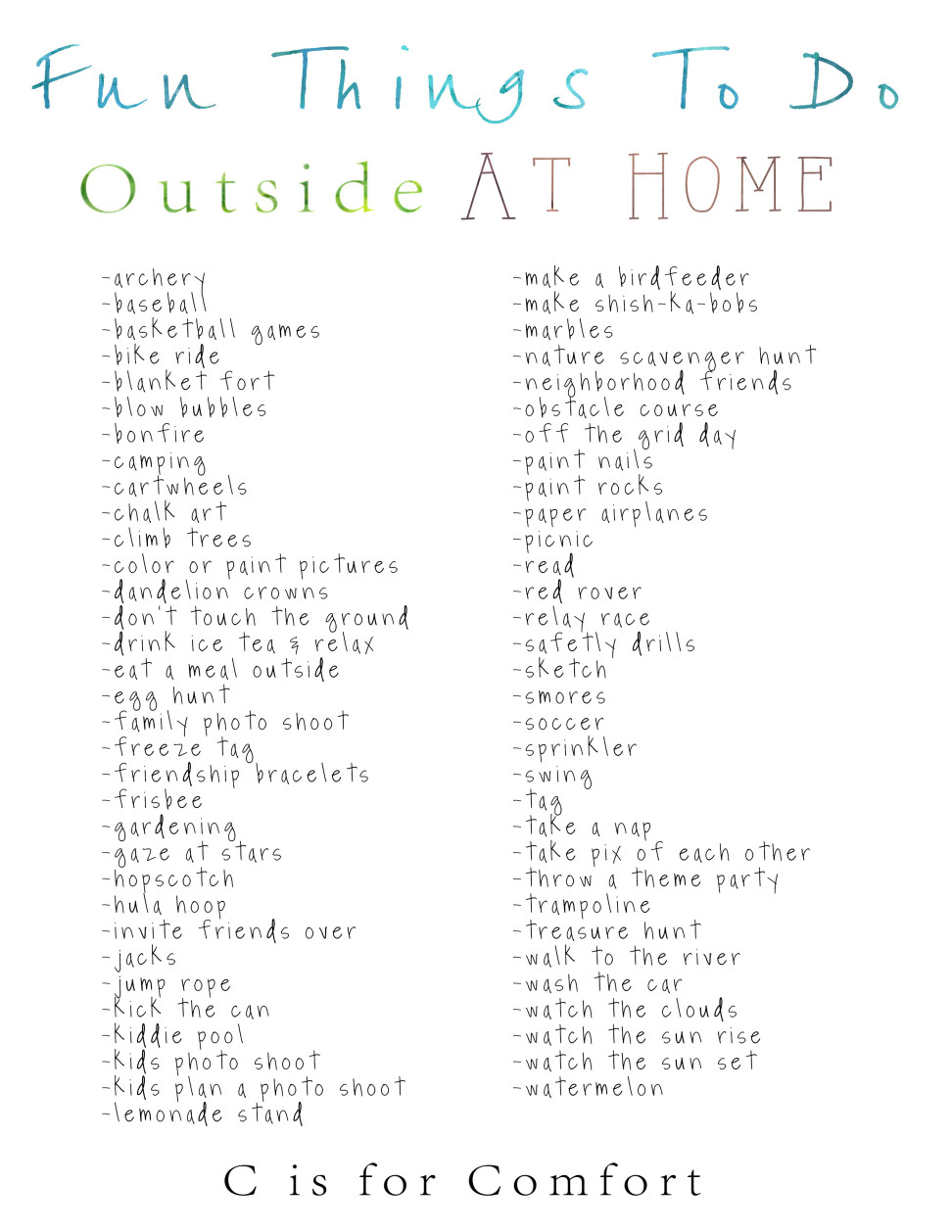 Here are a few 8.5×11 summer fun printout freebies.  I made these with Tagxedo, but you could always make your own with your favorite summer activities.
For more information and ideas for these activities, check out the links below. Over the Summer I'll be picking randomly from this list, so check back often!
Archery
Backyard Camping
Backyard Fort
Backyard Picnic
Basketball Games
Bike Ride
Blow Bubbles
Cartwheels
Climb Trees
Color or Paint Pictures of Nature
Drink Ice Tea and Relax
Eat a Meal Outside
Eat Watermelon Slices
Freeze Tag
Gaze at Stars
Have a Bonfire
Have a Relay Race
Have the Kids Plan and Set Up a Photo Shoot
Hopscotch
Hula Hoop
Invite Friends Over
Jacks
Jump Rope
Kick the Can
Lemonade Stand
Make and Grill Shish-Ka-Bobs Together
Make and Put Up a Birdfeeder
Make Dandelion Crowns
Make Friendship Bracelets
Make Paper Airplanes
Make S'mores
Marbles
Nature Scavenger Hunt
Obstacle Course
Off the Grid Day
Paint Nails
Paint Rocks
Photo Shoot of the Family
Photo Shoot of the Kids
Play Don't Touch the Ground
Play Frisbee
Play in Kiddie Pool
Play With Neighborhood Friends
Playing Catch with a Baseball
Read
Red Rover
Safety Drills
Sketch
Soccer
Sprinkler
Swing
Tag
Take a Nap
Take a Walk and Watch the Sun Rise
Take a Walk and Watch the Sun Set
Throw a Theme Party
Trampoline
Treasure Hunt
Wash the Car
Watch the Clouds
Watermelon Skewers
What are your favorite fun things to do, at home, outside, in summer?  We'd love to hear from you!  Let us know in the comments!