Simple Gluten Free, Egg Free Brownie Cupcakes
I have been craving brownies for quite awhile.  I haven't had a brownie in…. at least five years?  I honestly can't remember, it might be longer.
I have looked up recipes for gluten-free brownies numerous times, but they usually contain eggs.  Searching for an uncomplicated gluten free, corn free, egg free brownie recipe can be a little frustrating.  Usually, my desire for brownies wears off as I dig through recipe after recipe with bizarre ingredients.
My goal for gluten free, egg free brownies was that they be simple, fast and contain ingredients I already had on hand (for more easy recipes click here).  I personally prefer a more solid brownie.  Cake like ones are good too, but I wanted something closer to a cookie, crunchy on the outside, soft on the inside.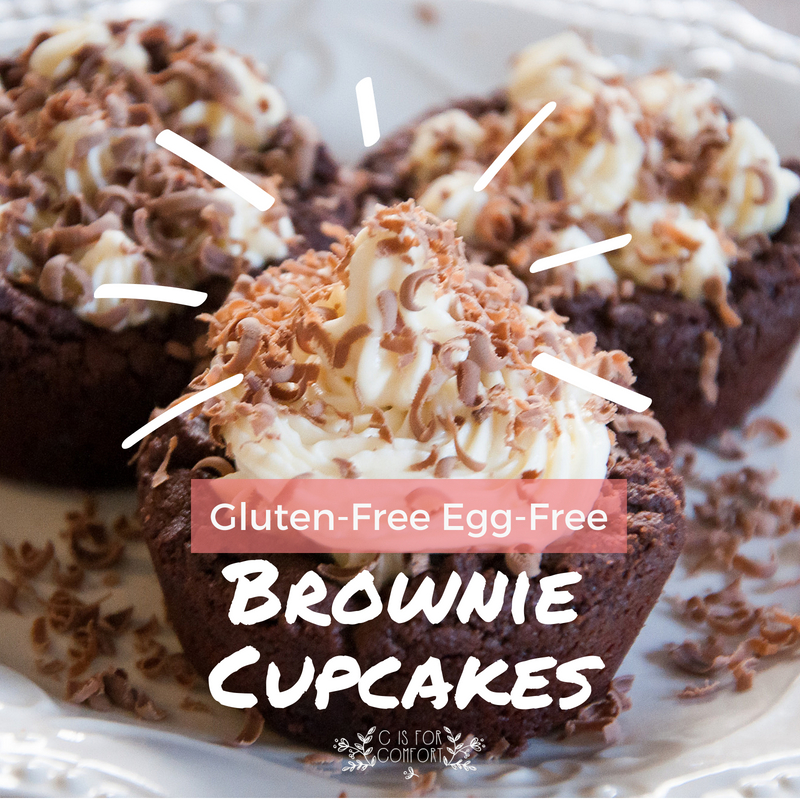 Cat had also been wanting brownies, and even offered to make them.  I seized the opportunity and dived into a google search.  I looked for vegan recipes since they are more likely to have egg-free brownies.  I found a recipe that seemed to work for us and made a few modifications.  This time we stuck with regular sugar to see how the recipe turned out, but I think we'll attempt using honey or maple syrup next time.
Although we are not vegan, this recipe can easily be converted to dairy free by using dairy-free substitutes for the butter.  Maybe coconut oil or olive oil?  Maybe I'll give both a try to see what happens and get back to you!
The brownies turned out as good as I had hoped.  We decided to top them with homemade cream cheese frosting and shredded chocolate flakes.  This might be a new family favorite, we gobbled them all up in a few days!
Gluten Free Brownie Cupcake Recipe
Ingredients
1/4 tsp baking soda
1/4 tsp cream of tartar
3/4 cup gluten-free flour blend
Optional Add-Ins: 1/3 cup pumpkin seeds or chocolate chips
Instructions
Preheat oven to 350 degrees.
Grease muffin pan with butter.
Prepare flax eggs in a small bowl and let rest for 5 minutes.
Place butter and sugar in a large mixing bowl and blend until smooth. Stir in the flax egg, vanilla, baking soda, cream of tartar, salt and cocoa powder. Lastly, add the flour, then fold in any mix-ins – chocolate chips or pumpkin seeds.
Scoop batter evenly into muffin tins until 3/4 full and bake on the middle rack for 22-26 minutes, or until the brownies start to pull away from the sides and they spring back slightly to the touch. Be careful not to overcook or they will get crumbly. Remove from oven and let rest in the tin for 5 minutes before removing to cool completely on a plate or cooling rack.
Store in an airtight container to keep fresh for a couple days. Freeze for long-term storage.
Frosting
Ingredients
1 pint heavy whipping cream
Instructions
Attach a whisk to your mixer.
Add cream cheese to the mixing bowl.
Blend cream cheese till smooth.
Blend in maple syrup and cream.
Whip on high till mixture is smooth, thick, and begins to separate.
Pipe onto cupcakes.
Shave chocolate over the top.