52 Project, Week 25: Patterns
When finding patterns for a photography project, it can be difficult to find a satisfactory subject. At least, it was for me! I couldn't find anything that really spoke to me. I have already incorporated leaves into past projects and I didn't want to be redundant, but that would have been my first choice.
Searching in the world, there are a lot of patterns, brick walls, playground equipment, windows. Honestly, they all seemed so overdone and boring to me. I really wanted to try something different.
I have seen a photograph similar to this before and I thought it would be fun to try it myself. Let me tell you, this was no easy task! It took A LOT of matches and I ended up with a few burnt fingers.
I tried so hard to get a perfect gradient. Did you know that matches bend when they are burning? Or that they shoot flames out the end of the match when you get too close to the end? Also, not much holds the head on once it's been torched.
For the really charred ones, well, everything past the fourth match, I had to deal with warping and bending of the wood. My remedy for this was to burn a short section, cool and then burn another section.
For the last 6 matches, I had to be really careful not to burn my fingers. I decided to burn the butt end first, then burn the remaining sections. This is where the flames shooting out of the end of the match became a problem.
After numerous attempts at perfection, I said "Forget about it!" and became satisfied with imperfection. I theorized that I could fix it in photoshop in a jiffy, but I earned that imperfection with a badge of honor… or burnt fingertips anyway.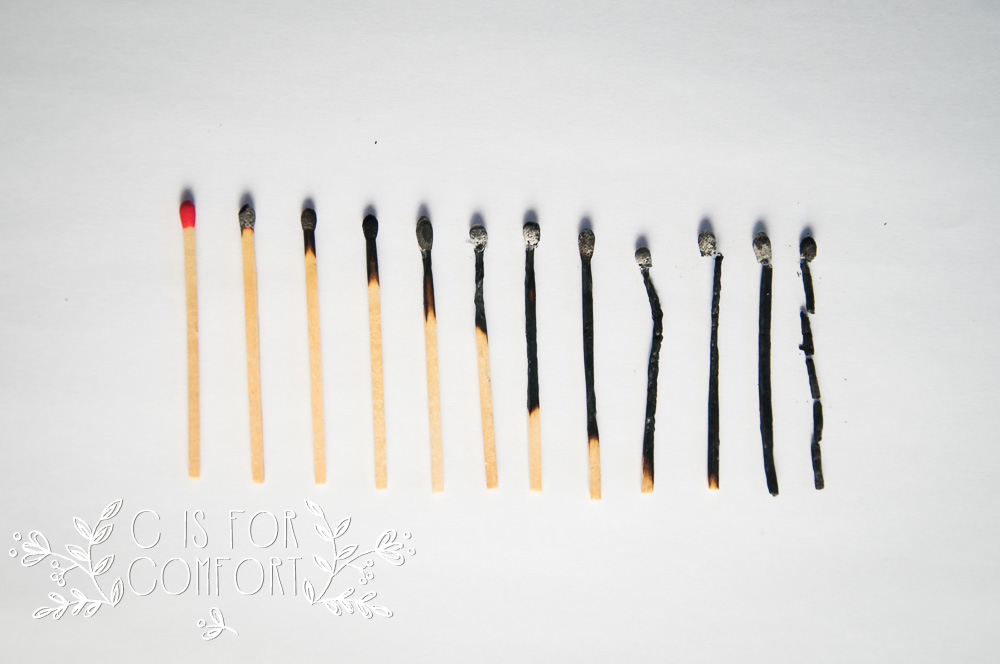 Previous Week: words
Next Week: watermelon
Main Page for 52 Project
Join us for the photography challenge! We'd love to see your images!
You can post your image on our Facebook page here:

Or tag us on Instagram with #cisforcomfort52
Need inspiration for your patterns project? Check out my inspiration board on Pinterest!
Check out how I did this in my video!