52 Project, Week 13: Kindness
I spent a lot of time reflecting on kindness.  It ended up leading me to do a few other kindness projects too.  For my challenge, I had a lot of ideas for what I could do, but ultimately decided on something that has really impacted my life.
I have always loved photography.  As a child, I would set up elaborate photo shoots with the neighborhood kids.  After we moved, I didn't have any friends, so I set up photo shoots with my barbies.  As I got older, I eventually did make friends. Sometimes I would pose them for portraits or take fun candids of life.
It wasn't until I gave birth to my first daughter that I finally pursued a career in photography.  I took the plunge and got a job at a local portrait studio.  There, I was thrown in the camera room without any training.  This was at the beginning of digital cameras and my studio was the first within that branch of the company and the country to transfer from film to digital.  All of the camera settings were exactly the same, so I didn't have to worry about learning to master a digital pro camera yet.  The lighting consisted of lowering and raising a light attached to the ceiling, depending on the height of the subject.  The editing was a bit laughable and dated today, but it was also easy to use.  My daughter loves to joke with me about the garish vignettes, one of my pet peeves.    I also had the fun of working with different backgrounds and props.
My primary job was posing subjects and getting them to smile.  This was no small task.  I had to jump around, crawl on the floor, make crazy faces and silly noises.  I had to go from my usual quiet, shy self to someone bold.
I used Cat as my little model for practice.  As the years passed, not only did Cat grow, but so did my skills as a photographer.  I became confident in working with people.  I experimented with my own camera at home, learning settings and lighting.
Eventually, I quit working for someone else and started working for myself.  I started photographing sessions in my home and I loved it.  Picking up a camera is like stepping into a different world for me.  Everything else turns off, all of the worry and frustrations of the world, all of life's anxieties melt away, the noise drowns out and my focus narrows down to me, my subject and my camera.  We make the three letter word "art" into a symphony of light, color, and emotion.
Once the session is over, I float on a satisfied high.  I load my images into my computer and edit them.  I love editing images.  True, sometimes editing can lag into the mundane and I need a bit of Netflix binging on the side to keep me going.  But there are times where I fall in love with an image or a session and I could get lost in it, working for hours before I come up for air.
Photography is so many things, composing an image, using appropriate lighting, knowing the settings on a camera and how to use them in different conditions, different lenses, varying heights, interacting with your subject, posing your subject, background, props, storytelling.  Behind the scenes, one must learn the business, photo editing software, image organizing, networking, social media, website creation, and management, staying up to date in education by learning new techniques in all of these areas.  It can take up a lot of time and it is a lot of work.
It's hard to not become obsessed and spend all of my time doing this.  I have 5 other people in my life that I'm responsible for.  They need my time, love and attention.  This doesn't mean they are a distraction from my work.  They are the important work.  I think if I were single, I would lose myself to work and I would end up hating it.
My family gives me inspiration.  They give me a constant source of people to photograph.  They give me a story to tell. They remind me to live and to get out in the world.  They help me not just capture other people's memories, but to make and capture my own.
After I became pregnant with my youngest daughter, I started to have health problems.  I cut back more and more in my work until I started to turn away sessions.  I knew that I was not going to be able to photograph other people if I didn't know if I was going to have a good day or a bad day.  I had to make a decision to focus on the more important things.
For me, my important things are God, family, and health.  Those three things take a lot of time and commitment.  For months, I mulled over closing my in-home studio.  It sat empty, making me sad.  Sure, I could use it just for my own children, but that's a lot of space for a few family portraits.  In a house full of 6 people, space is limited.
Then something happened that made me move on my decision.  Cat became depressed.  She has always struggled with being positive, but there was a noticeable difference in her appearance and behavior.  She stopped caring about things that normally made her happy.  She looked like the life had been drained from her.  She lost all motivation to do anything. Worst of all, she admitted to me several times that she wanted to die and she had been seriously considering it.
I brought her in to be diagnosed with depression and to get a referral for a therapist.  Nate and I talked it over and decided to convert my studio into a bedroom for Cat.  We thought the extra space might give her a place of her own to create art and play her piano.  Nate offered to let her paint it whatever color she wanted.
This last bit was hard for me.  I loved the color of my studio.  Painting it made it seem real and final, there was no turning back.  I didn't want to turn back, for so many reasons, but change is always difficult for me.
Having a project for Cat seemed like a great idea.  Painting her room was something that would keep her occupied and looking forward to the future.  However, as the weeks dragged on and turned into months, the painting became another burden for her.
So one week when she went to her Dad's house, I chose an act of kindness and love.  I picked up the paint brush and finished her room.  I left only the top edges of the wall for her to finish.  Cat would also like me to add that she had painted most of the room before I got to it.  lol
As I painted and the walls changed from a deep turquoise blue to a pastel green, I could remember my own Mother's act of kindness.  She had helped me paint my house when I first moved in.  So had my children and my sisters.  My heart was warmed by the memory of their love, helping make our house a home.
After she finished her room, I felt such relief and happiness.  My daughter was going to move out of her childhood room and into her own room as a teenager.  Already I could see a spark of excitement in Cat at the idea of having her own room.  It was real to her too.
Although getting her own room won't solve all of her problems, it's a step in the right direction.  Learning to live with depression is something she'll have to work on for the rest of her life.  Hopefully, with the help of therapy, she'll learn tools that will help her cope through the rough times.
As for having my own studio, maybe someday in the future, I'll build my own studio.  Photography isn't about having controlled lighting and a controlled environment.  The true test of a good photographer is if they can photograph in uncontrolled lighting and uncontrolled environments.  I can take portraits anywhere in the world.  The world is my studio and it is beautiful.
This paint can changed my life.  It also changed my daughter's life.  She is learning to become an independent person.  She is learning to be an adult and slowly finding out how to survive in this world.  I am no longer photographing other families, I'm photographing my own.  I am fully immersed in my own story and that of my family.
Has anyone ever done something kind for you?  How did it impact your life?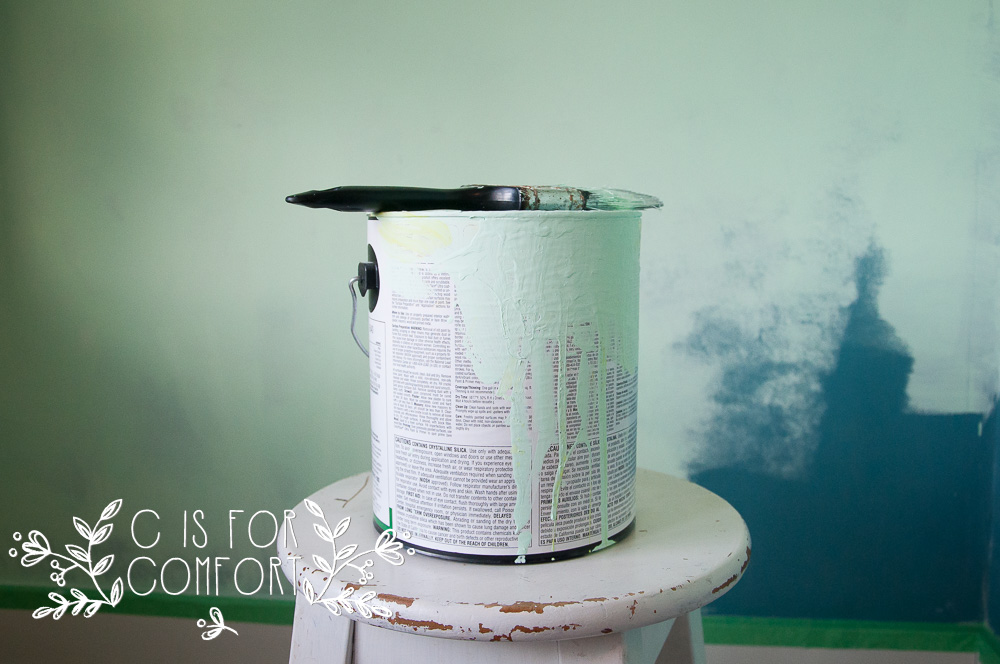 Previous Week: 52 Project, Week 12: Reflection
Next Week: 52 Project, Week 14: Favorite Scripture
Main Page for 52 Project