Gluten Free Berry Muffins
When I was first learning how to be corn and wheat free, my sister in law made me some amazing gluten-free berry muffins.  She was kind enough to share her recipe with me.  I've modified it a bit since our allergies have evolved.  My whole family loves these and we try to always have some on hand.
Thankfully, they are freezer friendly, so we can make double or triple batches, freeze the majority and still have enough left to snack on for a few days.  I recommend freezing immediately what you can't eat and whatever is left eat within one to two days.  After 48 hours they lose their flavor and fluffy texture.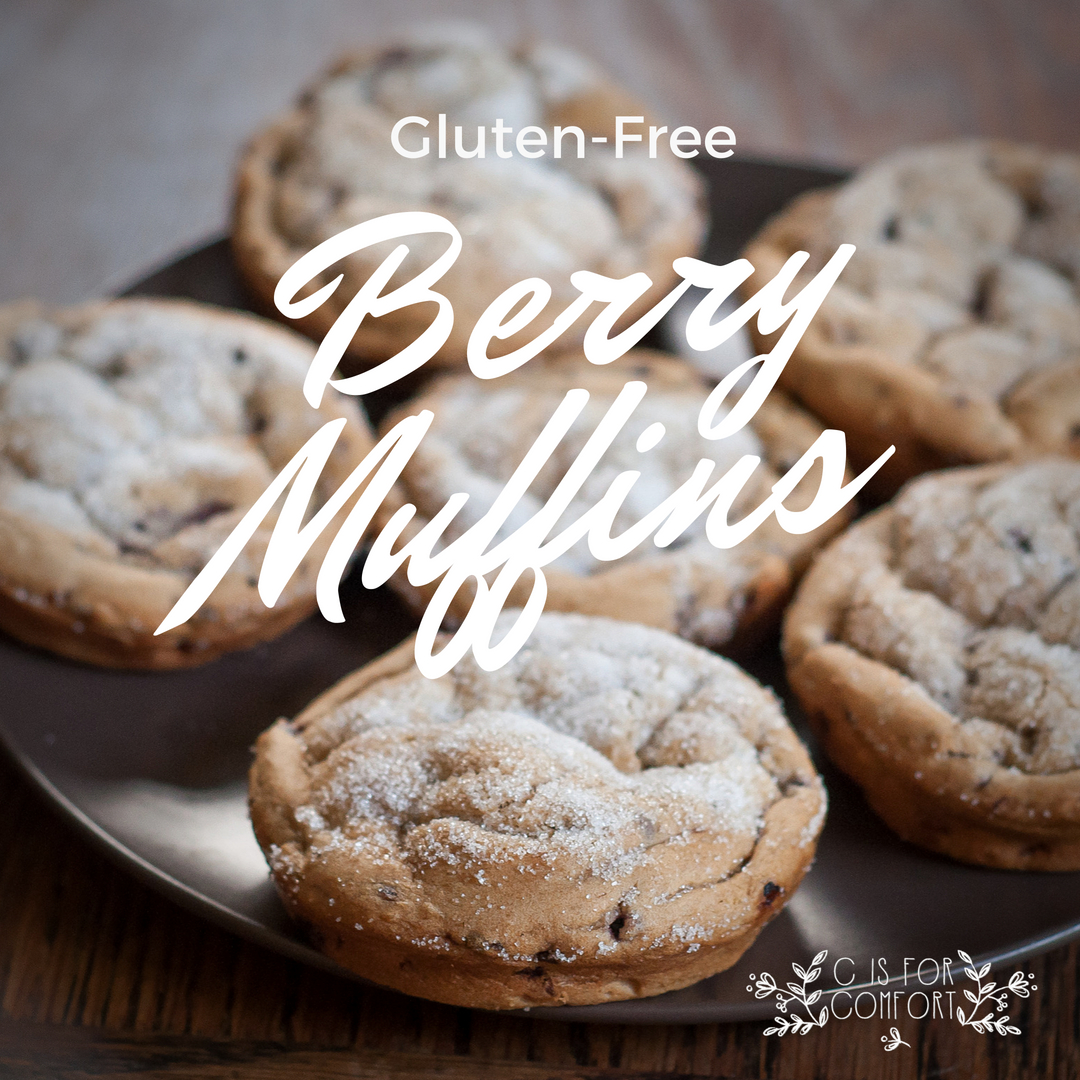 The nice thing about this recipe is, you can add whatever fruit you have on hand.  We've tried many different combos over the years, but my favorite is one my SIL came up with, lemon zest and raspberry.  More recently we tried lime juice and blackberries.  Sometimes we'll chop up apples or throw in fresh blueberries.  My SIL has also made a delicious peach mango.  If you're craving chocolate, you could always add chocolate chips.  For those of you with corn allergies, just adding cocoa powder and a little extra maple syrup is a good alternative to chocolate chips.
I have always loved the top of the muffin.  Panera makes amazing pumpkin muffies, which are basically large muffin tops.  Since learning about all of my allergies, I've always been bummed I can't drop by for a muffie.  I did discover a muffie pan at Target a few years ago and I've loved using it for my muffins.  I use that and regular muffin tins since I usually make triple or quadruple batches and I need all the pans I can get!  My next goal is to replicate the muffie in a gluten-free recipe!
I hope you enjoy these muffins as much as we do!  Let me know if you try and enjoy the recipe!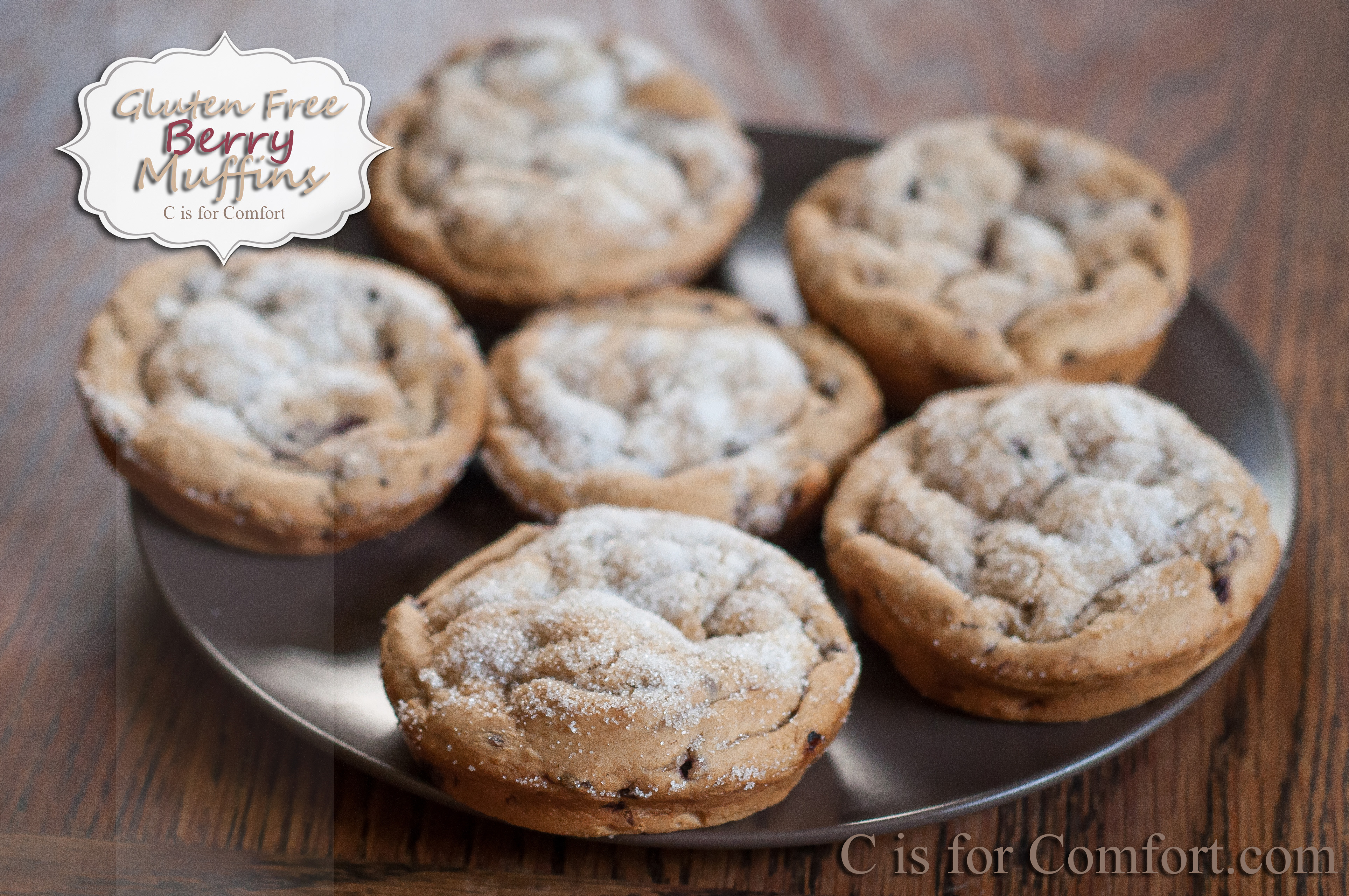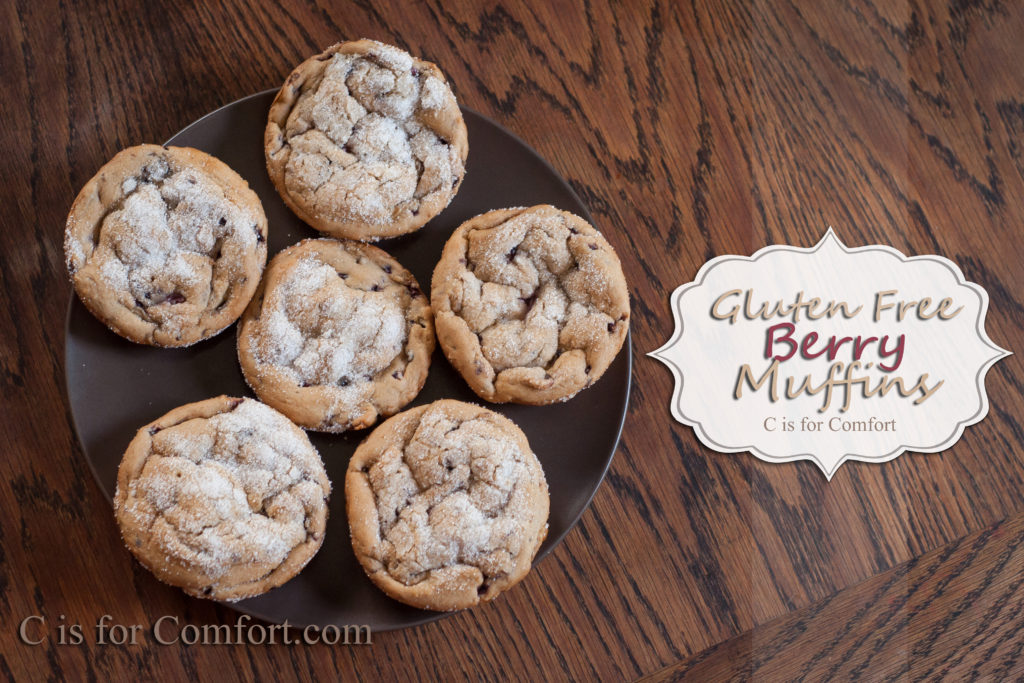 Gluten Free Berry Muffins
Makes 12 regular sized muffins or 6 muffies
Ingredients
½ cup unsalted butter, room temperature
2 tsp. lemon zest or more — zest from 1 large lemon
1 cup real maple syrup or 1 cup of sugar
1TBSP granulated sugar**
1 egg or egg substitute(I use chia seeds)
1 tsp. vanilla (omit if you don't have homemade for corn free people)
2 cups gluten-free flour blend (set aside 1/4 cup of this to toss with the berries)
2 tsp baking soda
1 tsp cream of tartar
2 tsp xanthan gum (I also use chia seeds instead)
1 tsp. sea salt
2 cups fresh berries
½ cup buttermilk*** (or milk alternative, making buttermilk is optional)
** This 1 tablespoon is for sprinkling on top
*** To make homemade buttermilk, place 1 tablespoon of apple cider vinegar or lemon juice in a liquid measuring cup. Fill the cup with milk/milk alternative until it reaches the 1-cup line. Let stand for five minutes. Use only 1/2 cup of the prepared mixture for the recipe.
Instructions
Preheat the oven to 350ºF.
Cream butter with lemon zest and the cup of the sugar/maple syrup until light and fluffy.
Add the egg and vanilla and beat until combined.
Meanwhile, in a separate bowl, toss the berries with ¼ cup of flour.
Whisk together the remaining flour, baking powder, and salt in a separate bowl.
Add the flour mixture to the batter a little at a time, alternating with the buttermilk.
Fold in the berries.
Grease muffin tins with butter. Fill 3/4 full with a spoon.
Sprinkle batter with remaining tablespoon of sugar.
Bake for 35 to 45 minutes. Check with a toothpick for doneness. If necessary, return pan to oven for a couple of more minutes. (Note: Bake up to 10 minutes more depending on climate) Let cool at least 15 minutes before serving.