52 Project, Week 11: Art
Art can be so many different things!  There are thousands of different mediums and styles of art!  Choosing one form was incredibly difficult.  I am an artist, but I also enjoy the art of others.
The decision of making art of my own or finding a way to honor another person's art was only mildly difficult.  I decided that since this was a mother/child project, it would be fun to make our own art.  We've always wanted to paint on canvases and this seemed like the perfect opportunity.  The whole family headed to Walmart where we picked up a few essentials.  Paint, canvases for the children and some paint brushes.   We also had a small pack of puzzles in our stash of art supplies from our local dollar store.  My own little canvas was also from the dollar store.
Each of the children enjoyed creating a masterpiece on their little canvases. Watching them create makes my heart happy.  In addition, I get to enjoy their beautiful art for years to come.
I decided to create an ombre blue base for my canvas project.  I started out by using the original shade of blue on the very bottom of the canvas.  Then I mixed the blue and white and added another stripe, I continued to add white and paint another stripe until the canvas was done.
After I let the canvas thoroughly dry, I moved onto the next step, glitter!  I found an image of an anchor online.  I printed it off and Cat cut it out for me to create a stencil.  Cat pressed the paper to the canvas and I painted the glue into the anchor shaped opening.  I heavily sprinkled the glitter onto the glue.  Cat removed the stencil.  We shook off the extra glitter onto a sheet of paper and poured the extra glitter back into its container.  I bought some spray adhesive that I'm going to use to keep the glitter from falling off.  Hopefully, this will keep it pretty for years to come!
What is your favorite way to create art?  Do you have a recent project to share with us?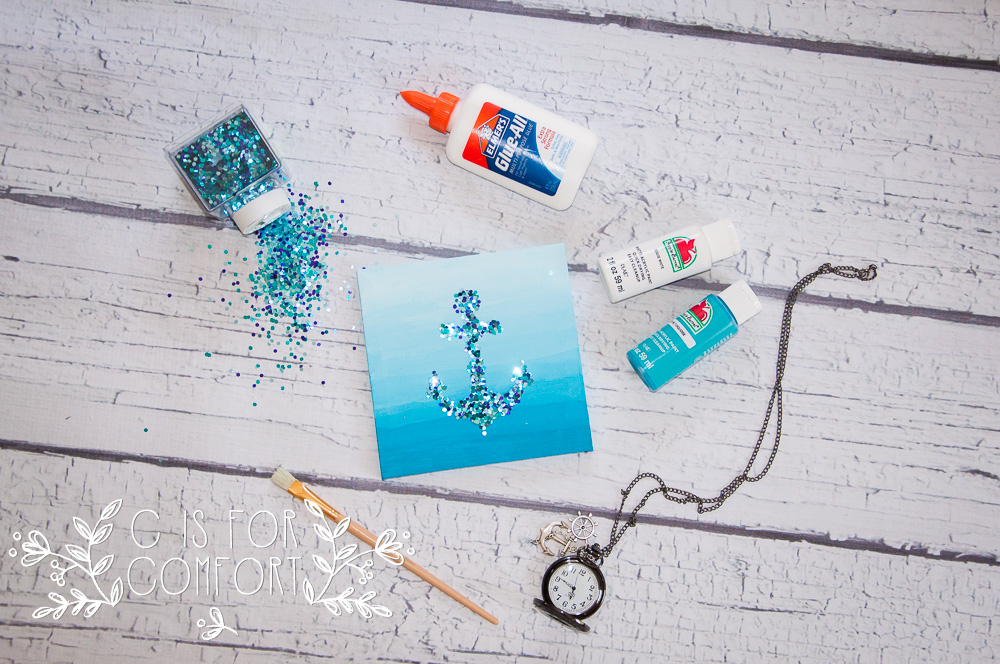 Previous Week: 52 Project, Week 10: Mother/Daughter
Next Week: 52 Project, Week 12: Reflection
Main Page for 52 Project