What's In My Bag?
As someone with severe, life-threatening, airborne allergies, I need to carry some things with me at all times.  This means that whatever I carry must be light and easily accessed.  In addition, I need others to be able to find my emergency information fast.  I also need a way to alert strangers to my allergens should I become incapacitated.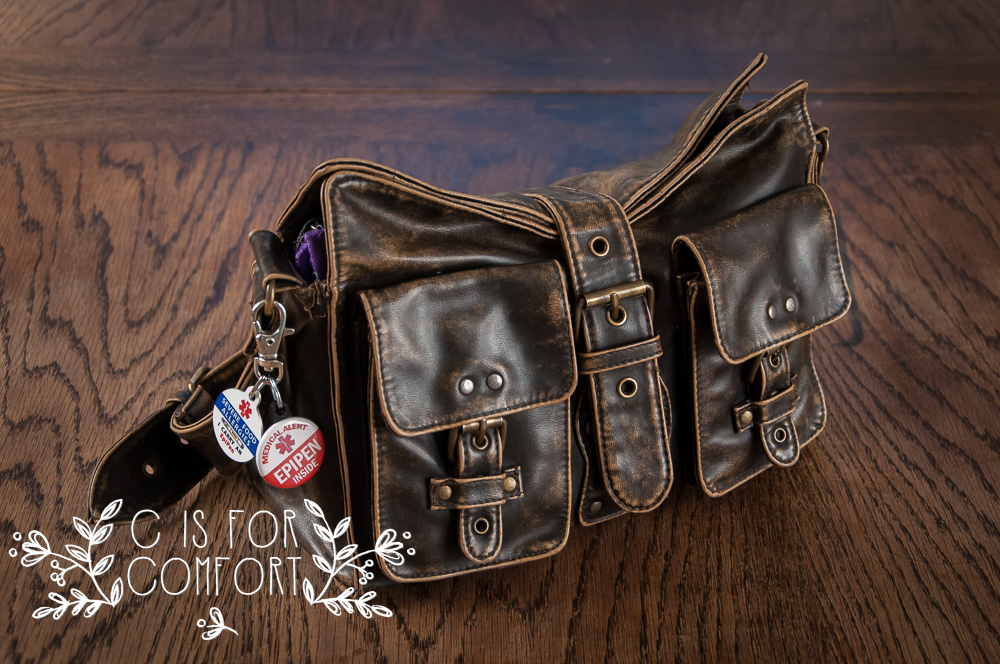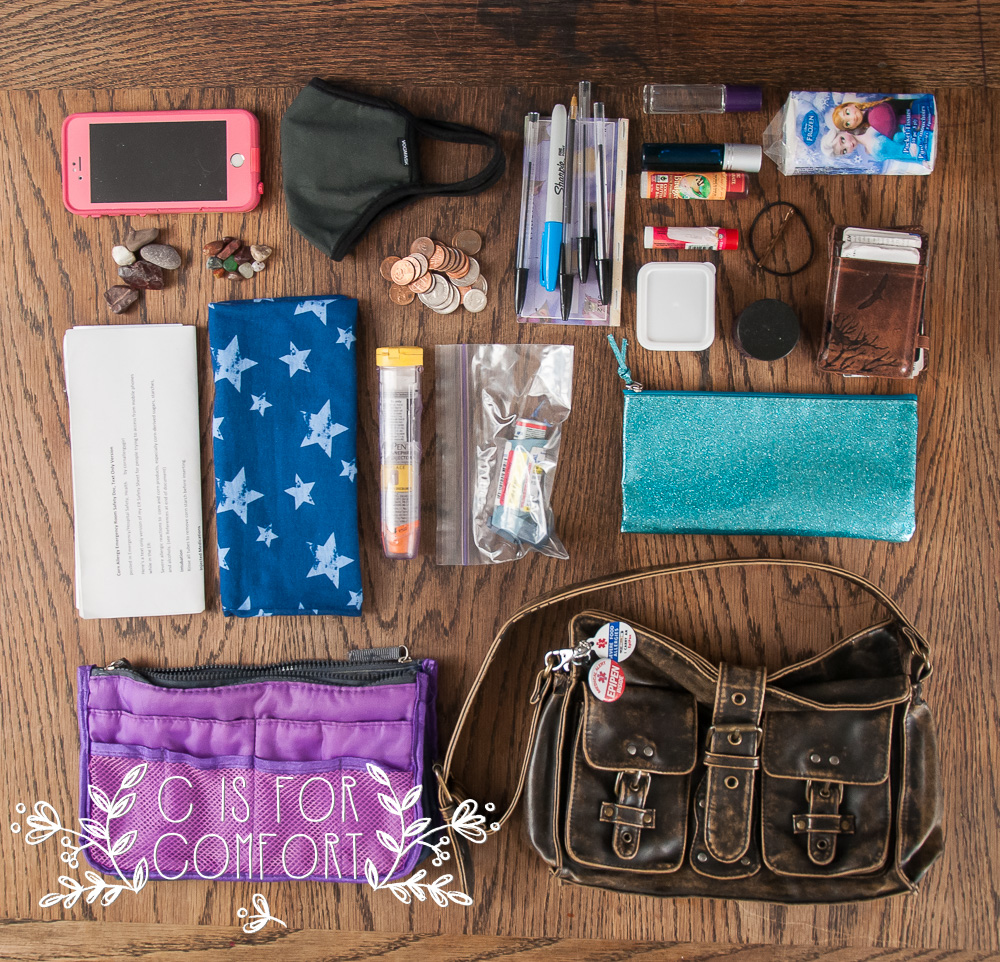 Top row, left to right: iPhone, pretty rocks, Vogmask, spare change, checkbook, pens and sharpie, essential oil roller bottles, Badger lip balms, Redmond Bentonite clay, Frozen tissues, hair binder and bobby pins, whipped eczema body butter, and wallet.
Middle row, left to right: allergy alert paperwork, backup star face mask, epi-pen, albuterol inhaler, and coin purse.
Bottom row, left to right: purse organizer, allergy tag, EpiPen tag, purse.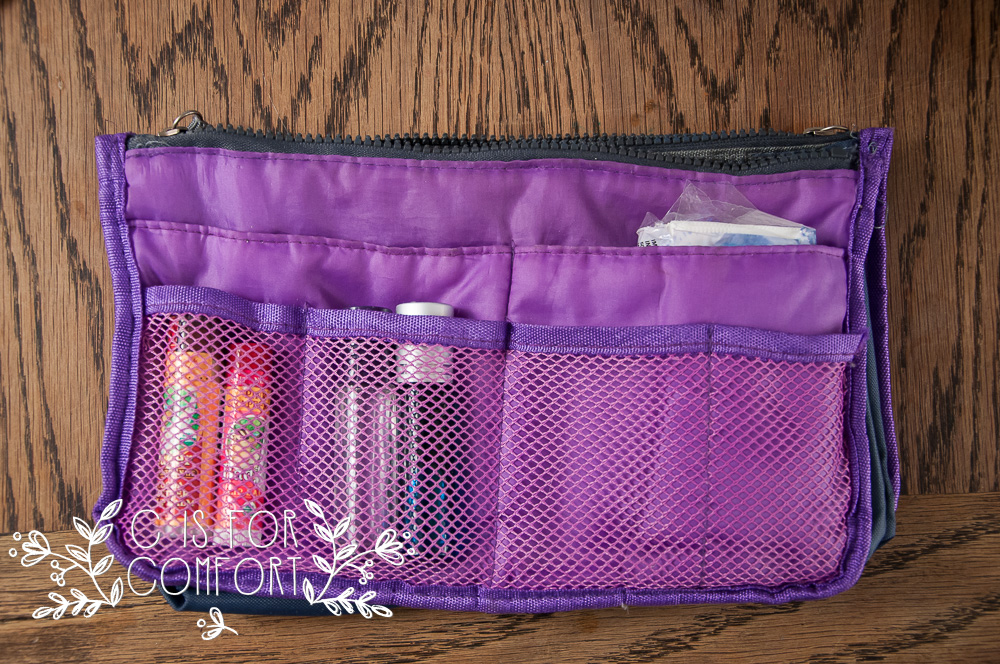 I keep both my lip balm and Cupcake's lip balm for when she needs it.  Next to that I keep my essential oil roller bottles.  I usually have a couple more than what's pictured.  I normally carry an anti-anxiety blend, first aid blend, Cat's sore wrist blend, and Mr. Awesome's ADHD blend.  Behind that, I tuck my tissues into one of the pockets.
My phone has medical alert information for emergency personnel.  My wallet has my insurance cards, my ID, my bank card, and membership cards.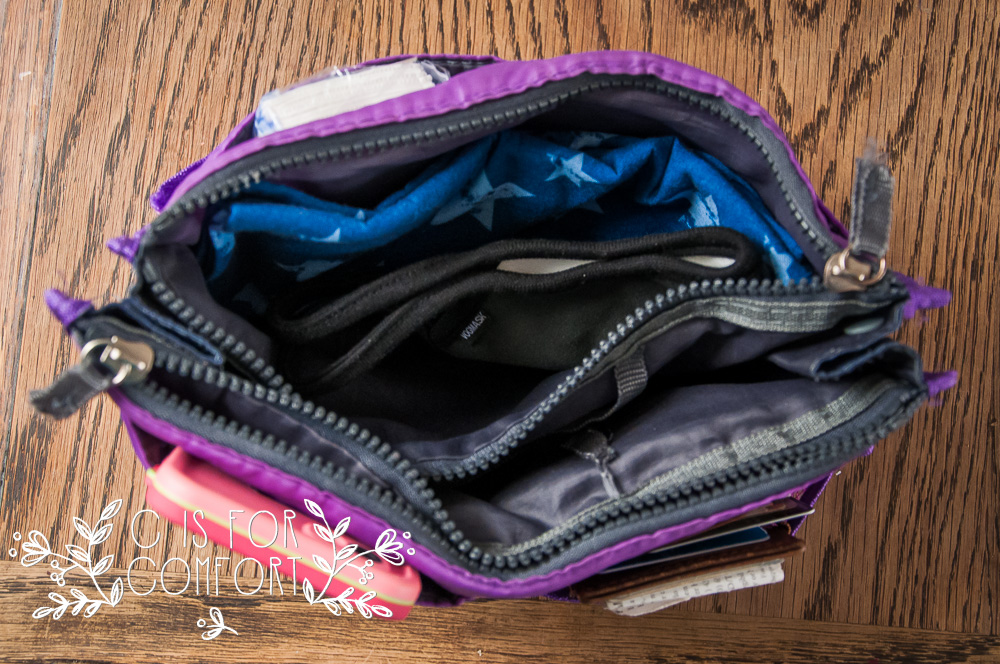 I keep both face masks in a zipper pouch to keep them clean and safe from dust and other contaminants.  I take them out and use them in dangerous places where I might potentially be exposed to airborne allergens.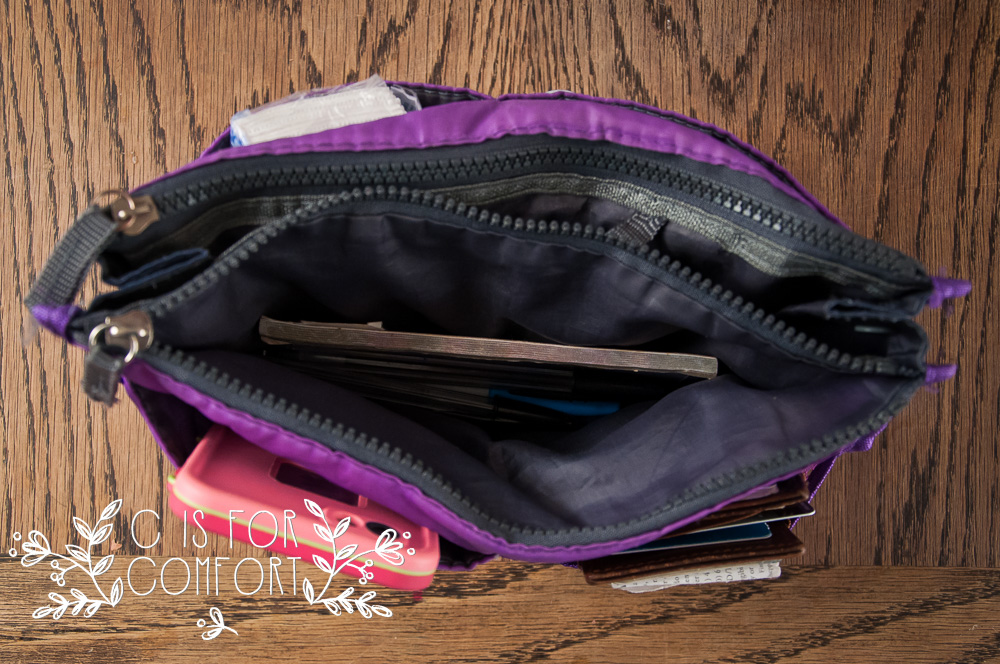 I put my checkbook into the other zippered pouch to keep it clean and safe from damage.  Yes, I still have a checkbook.  The DMV and the kid's schools are pretty much the only time I ever use it.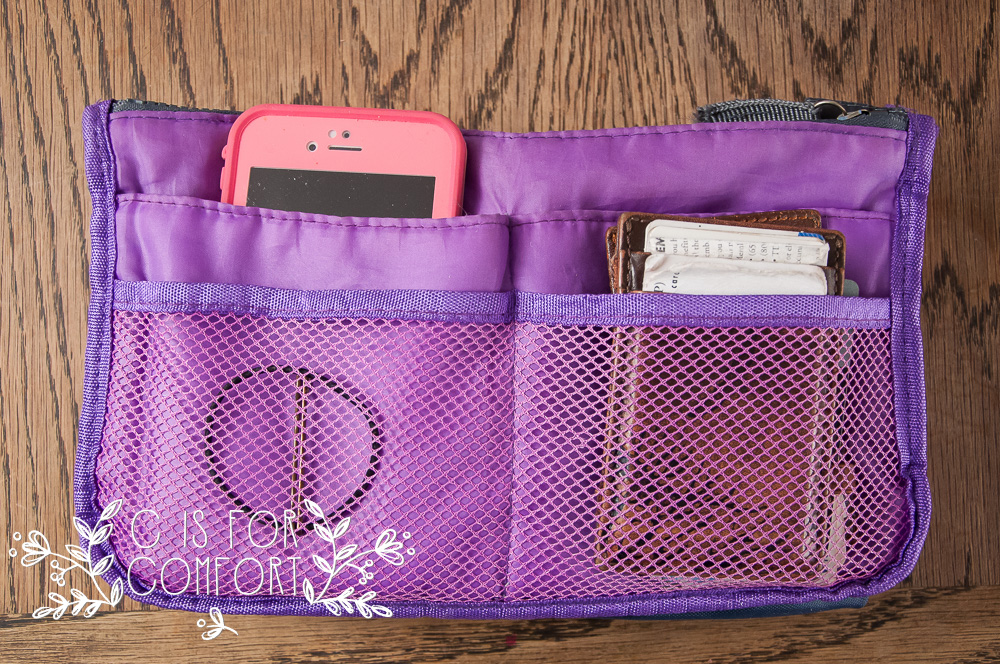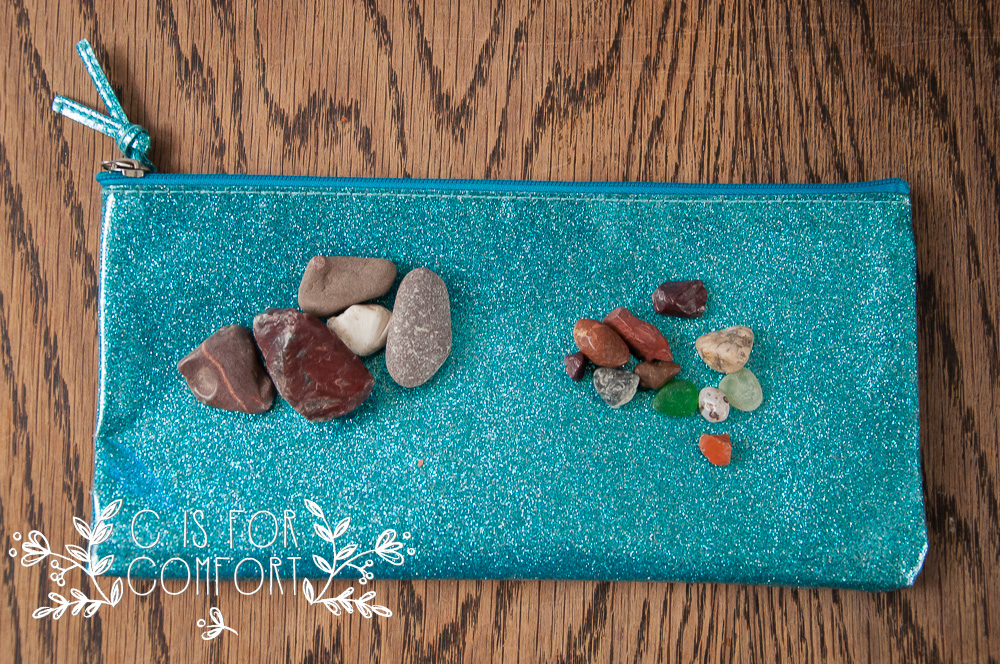 The kids and Nate are always bringing me pretty rocks.  I stash them in my purse till I get home and put them in little bottles or on shelves.  I'm a rock nerd.  🙂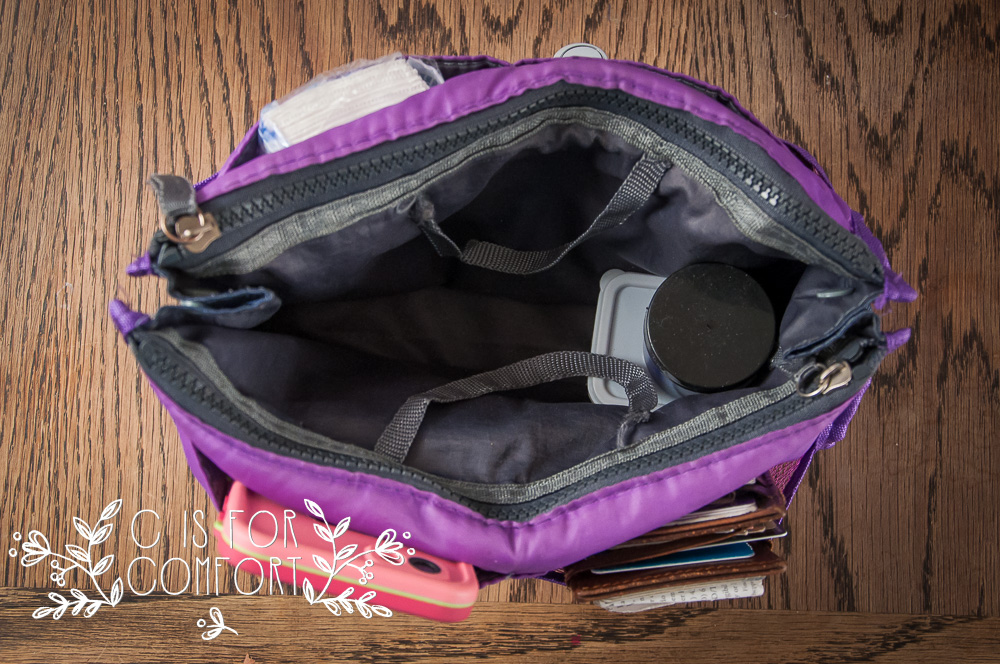 I keep my eczema cream in a little jar.  I also keep bentonite clay in a little container for emergency use.  Bentonite clay can help absorb toxins, it kills viruses and bacteria, reduces swelling and helps to reduce allergy symptoms from accidental internal exposure(eating allergens by accident).  It can also be used for bug bites.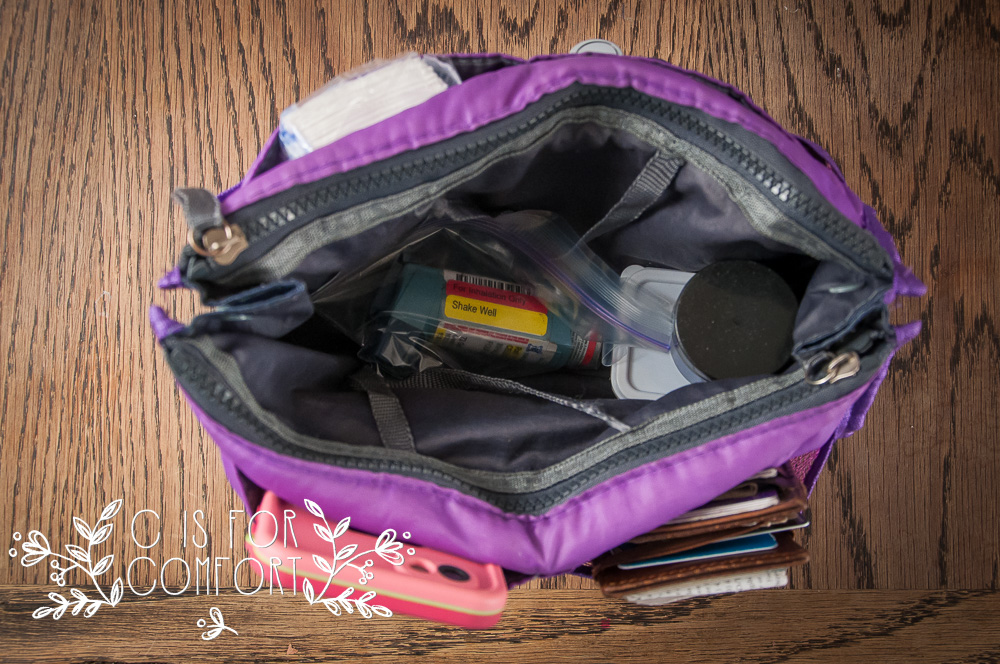 My inhaler has saved my life many times.  I'm not a fan of most pharmaceuticals, but when it comes to asthma, I don't mess around.  Thankfully, I rarely have asthma attacks anymore since I cut wheat from my diet.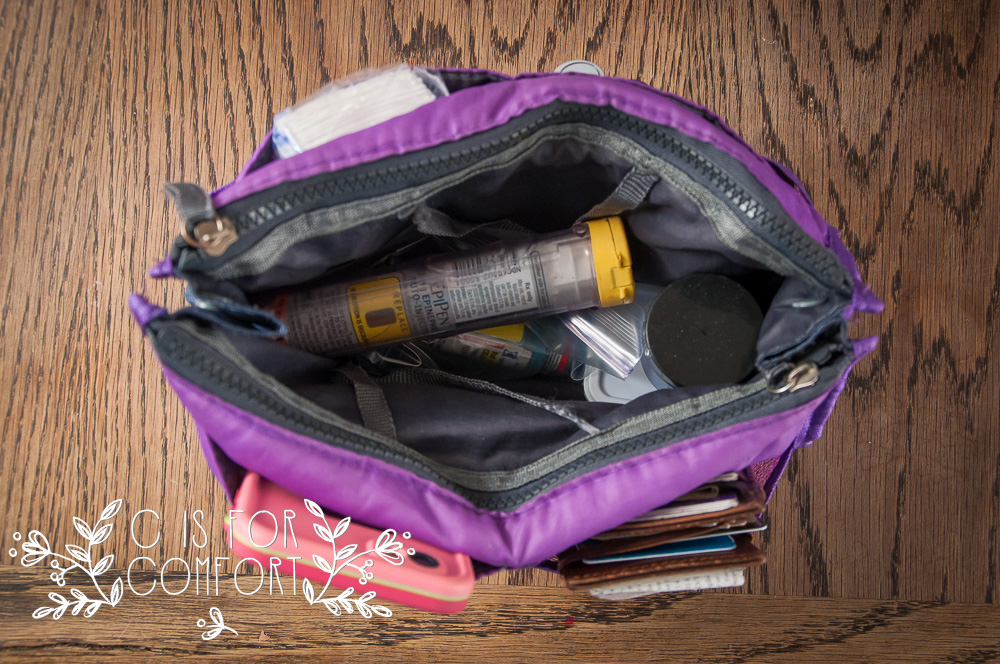 My epi pen still scares me, even though I've had it for years.  I've taught my family how to use it should I ever pass out.
What do you keep in your purse or bag?