52 Project, Week 14: Favorite Scripture
This is my first chalkboard creation!  My daughter Cat usually makes me beautiful art on the chalkboard that Nate made for me.  Since this was my challenge, I thought I had better give it a try myself.  I didn't think it was fair to give Cat such a complicated project.  (She insists she could have handled it.)
Drawing with chalk is a lot harder than it appears!  Chalk is thick and flattens with each use, The edges are unpredictable with swirls and curves, unlike using a pen or pencil.  I have to give Cat credit, she makes it look so easy!
Choosing my number one favorite scripture isn't an easy task.  I have a variety of favorite scriptures.  Actually, I have a book of favorite scriptures!  Narrowing it down to my top two was a little easier.
When I was studying the bible with my mentor, she often helped me find scriptures for life's problems or questions I had.  As we read through different topics, Isaiah 48:17 occasionally came up.  Karen always mentioned that it was her favorite scripture and it's not hard to see why.  It's a great reminder of what's important in life.
Jehovah is teaching us to help ourselves through his inspired word in the Bible.  The Bible is our guide to life and it can help us with every situation in life.  With daily study and personal, heartfelt prayer, we're developing a relationship with God and training our consciousness in the way we should walk.
I love that scripture, but I also love the one that follows.
17 This is what Jehovah says, your Repurchaser, the Holy One of Israel: "I, Jehovah, am your God, The One teaching you to benefit yourself, The One guiding you in the way you should walk. 18  If only you would pay attention to my commandments!  Then your peace would become just like a river And your righteousness like the waves of the sea.
I love the visual of peace and righteousness.  It soothes and comforts me.  By listening to God and applying his word, peace will be our reward.
Psalms 91:4 is my current favorite.  The wording is a little different, depending on which Bible you use.  My Bible has a more literal translation in an attempt for accuracy.
With his pinions, he will cover you, And under his wings, you will take refuge. His faithfulness will be a large shield and a protective wall.
Personally, I prefer the new international version, with the word feathers instead of pinions.  A Pinion is the outer section of a bird's wings.  Although a pinion is very specific to what part of God's wings will cover, pinion is not a regular part of my vocabulary.  
I love this scripture, because of the thought of being protected by God.  I love the visual of being safe, tucked under his wing, like a baby chick.  Conjuring this image in my mind brings tears to my eyes.  It's like getting a hug from Jehovah.
Do you have a favorite scripture?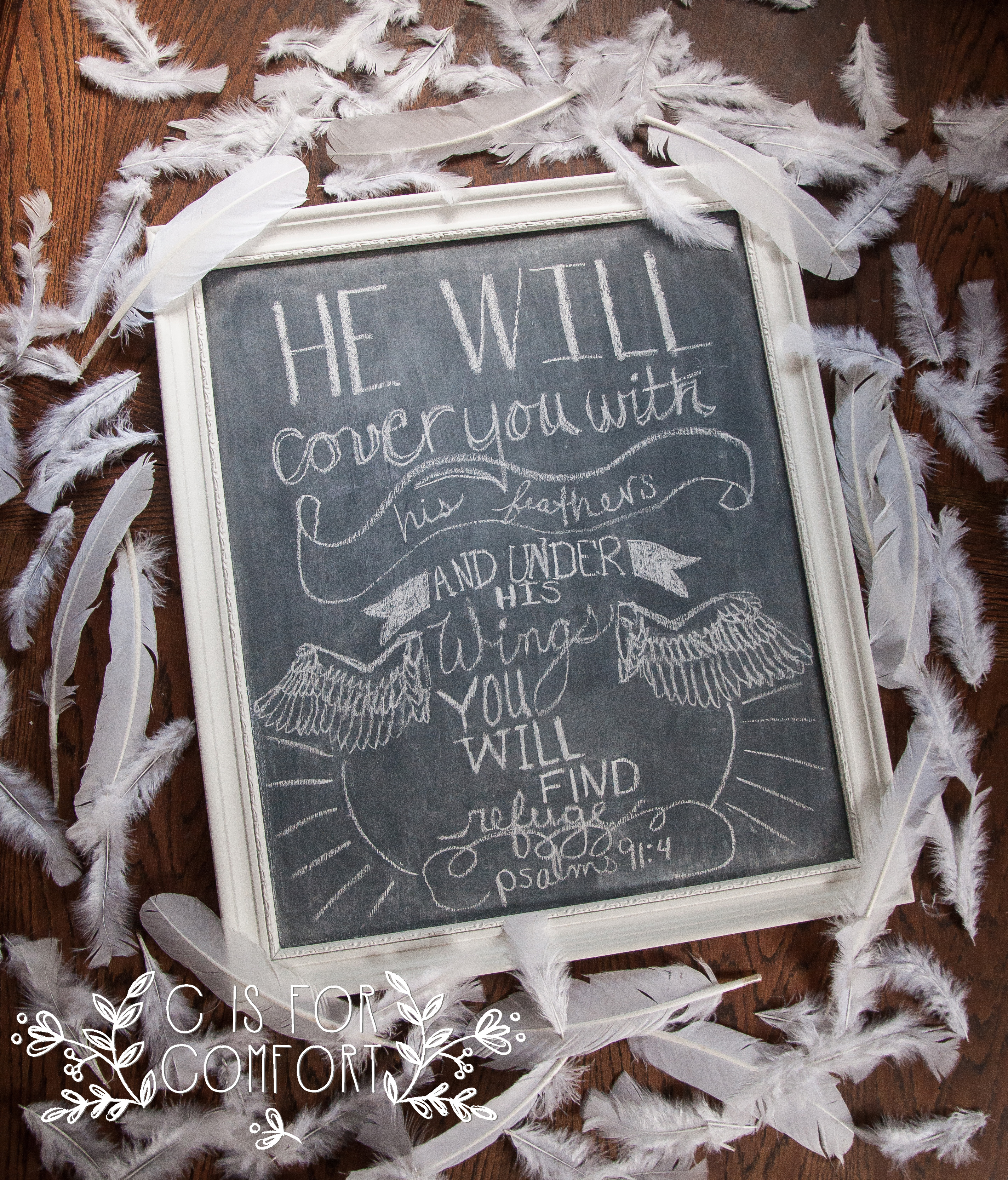 Previous Week: 52 Project, Week 13: Kindness
Next Week: 52 Project, Week 15: Hobby
Main Page for 52 Project