Our 4 Year Old Caught The Most Fish!
Camping Day 4
The morning started out with a panic attack.  Looking back, I can't remember what caused it.  Maybe it was sleeping on a small, uncomfortable air mattress for half the week.  Maybe it was having to walk a long way to the bathroom with a child who had to go to the bathroom, again.  Maybe it was camping food.  Maybe it was lack of creature comforts… and tea.  Maybe the kids were being crazy.  Maybe the Mister was being impatient.  Maybe I was just homesick.
Whatever it was that caused it, I could feel anxiety climbing up me like a bomb about to go off.  I was becoming irritable and panicky.  Rather than freak out and start screaming like a mad woman, I told my family I was taking a timeout.  I went into the tent and laid on the bed facing the window so I could watch the clouds roll by.  I breathed deeply and tried to calm my racing mind and the panic that was squeezing me tightly.
When I stop a panic attack before it gets out of hand, it's easier to calm down.  I focus on my breathing.  I focus on telling myself it's ok.  I try to minimize things that add to my panic, like noise and activity, and go somewhere quiet to regroup.  As I begin to calm, I can start to feel not so trapped and afraid.  I was at that point of mellowing out when my family began to peek in at me from the window.  They made me smile, and then a laugh chased away the rest of my storm clouds.  I was ready to get back to our day.
Nate had rented the boat bright and early that morning before anyone else had gotten up.  I packed up a few necessities like simple snacks, water, and wet wipes.  Nate prepared everything necessary for fishing.  We made sure everyone had one last potty break and drove to the boat area.
When we were packing up the boat, Nate realized he forgot the life jackets and had to go back to the rangers office to pick them up.  The kids and I opted to wait by the boat.  I thought they could burn off some energy playing before having to sit for a long period of time in the boat.
Once he was back, we put on our vests and set off.  The view out on the water was beautiful.  I wanted to explore the whole lake, but our motor was slow and battery operated.  We didn't want to get stranded in a far corner and have to row back.  The forecast predicted rain, but it was partly sunny and beautiful.  The kids wanted to go swimming after fishing was over.  With how warm the water was, it sounded like a great idea.
Princess had been wanting to go fishing for many months.  While shopping for camping supplies she was always on the lookout for fishing lures.  We ended up using worms rather than lures.  I was the designated worm attacher, much to my dismay.  I felt guilty and sick spearing the little guys with each hook.
Princess caught the first fish.  She was thrilled.  She fell in love with her fish and insisted we be careful with it.  Nate attached it to a rope to save for dinner as I re-wormed her hook.   Shortly after, she caught her 2nd fish!  Then her third!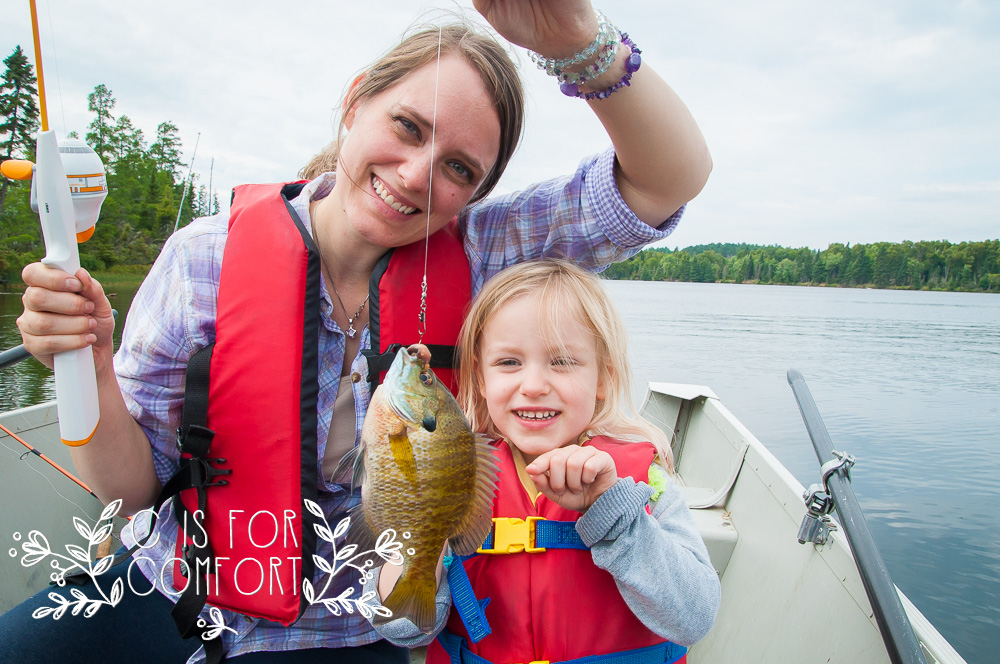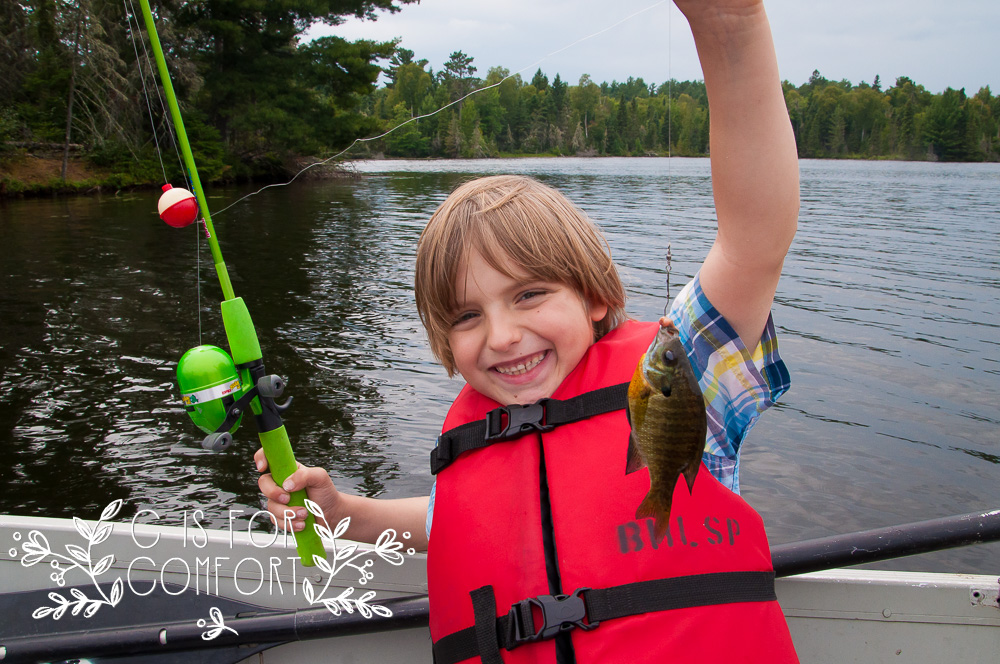 We noticed storm clouds heading our way in the distance, so we moved our boat closer to our campsite.  In our new spot, Princess caught more fish!  After she caught her seventh, Mr. Awesome caught one.  Then he got his second and Princess caught her 8th!  Nate caught a fish and Mr. Awesome caught his third.  We were constantly catching and releasing them!  Out of all of those fish, only 2 were big enough to eat.  We decided that Princess and I would eat those and the family would eat sandwiches.
While we were fishing, I told the kids a story about my childhood.  When I was very little, maybe 3 or 4, we went on a family vacation to Howard Lake.  My Grandparents were camping in a cabin nearby.  My Grandpa Ray wanted to go fishing and I begged to go with.  He relented but I think he was worried I would complain or perhaps scare away the fish if I were naughty.
I was so excited.  Grandpa gave me my own fishing pole to use.  We each had our own side of the boat.  I began to catch fish!  Grandpa was laughing and exclaiming his surprise.  After catching maybe 5 large fish he teased that perhaps I had the better side of the boat and switched with me.  I caught several more fish!  He said that maybe I had the better fishing pole and let me continue to fish.  If memory serves, I caught 11 large fish that day.  I was so happy I made Grandpa smile and be proud of me.
It started to sprinkle so we decided to head back.  We decided that we might try fishing more later in the day since the rental was for the entire day.  Nate dropped me off at the boat docks so I could drive the van back to the campsite, then he and the kids set out across the lake.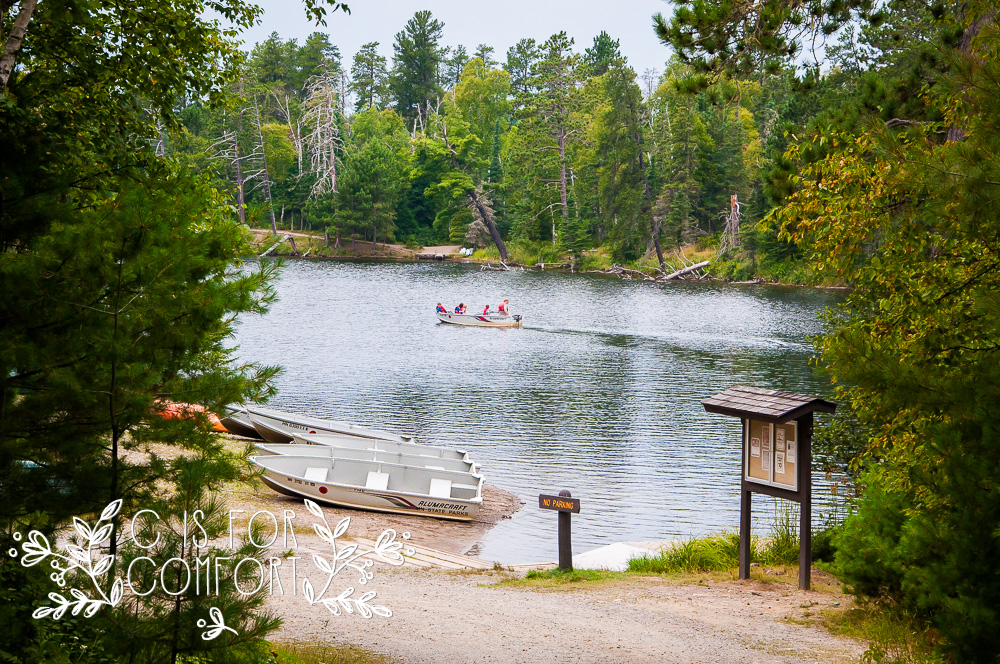 I met them at the docks and we all drove back to our campsite.  Since we had relied on fish being our dinner, we decided to get dinner in town for the non-allergy part of the family.  Our fish would be a nice corn free dinner for Princess and me.
As we drove to town, we saw a small black bear on a hill on the side of the road.  We pulled over to stop and watch for a little bit.  I was thrilled, but the rest of the family grew bored quickly.  Their growling tummies might have had something to do with it though.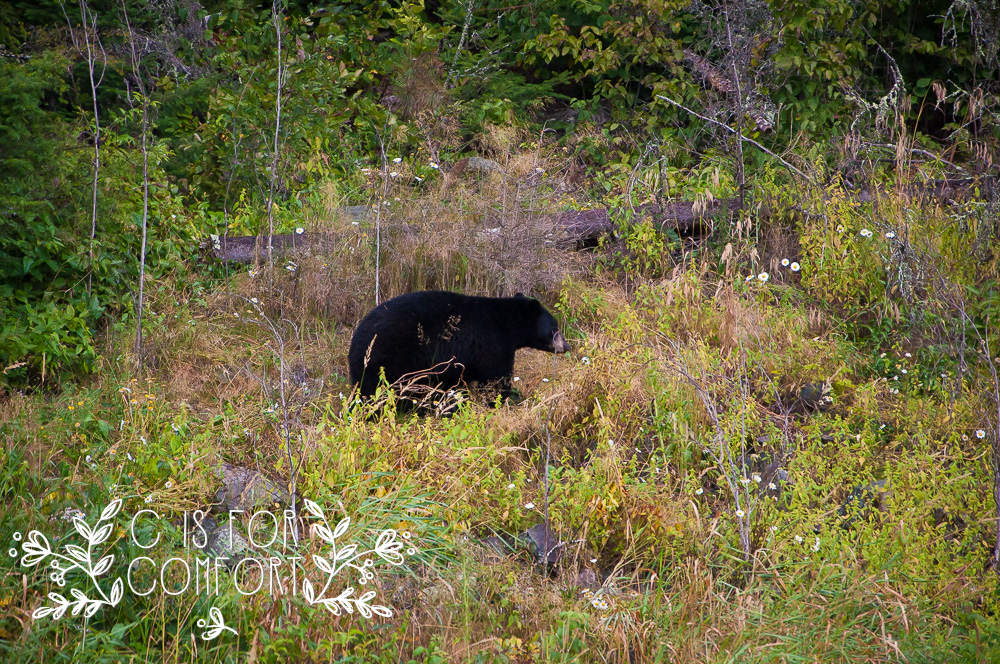 In our haste to leave, I forgot to make sure everyone went to the bathroom.  After getting food at Zupp's Market, Princess insisted she was going to pee her pants so we stopped at a gas station.  There, she found a baby loon stuffed animal.  Princess is a stuffed animal addict.  She must rescue every adorable stuffed animal she finds.  Some of the ones we say no to, she sobs for hours after because the poor things are sad and alone and no one will take care of them.  I find that letting her carry one or two of her babies everywhere seems to deter her from picking up anymore, but as this was an emergency bathroom break, at a gas station, I was unprepared.  So baby loon became the newest member of our family.
We made a trip to Dairy Queen since we felt bad that the kids weren't able to go swimming.  Thankfully they were happy with the trade-off.  Princess and I could enjoy our homemade snack bars and gluten-free grilled cheese once we got back to the campsite.
While waiting for Nate to bring out the goodies, I admired the many flower gardens in the parking lot.  Someone had taken a lot of time and love to create such a delightful and colorful array of flowers.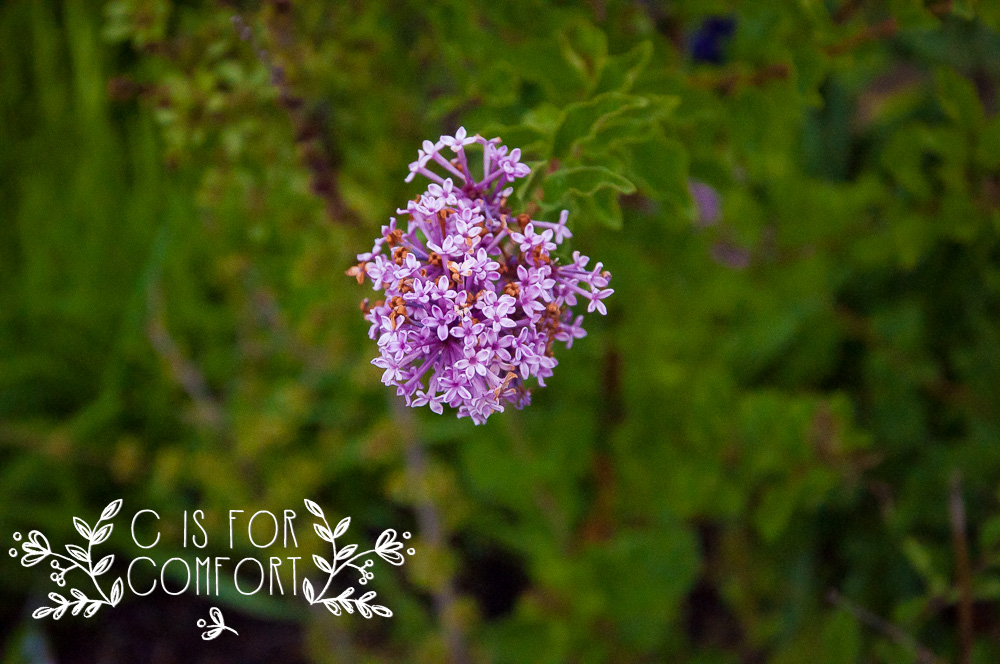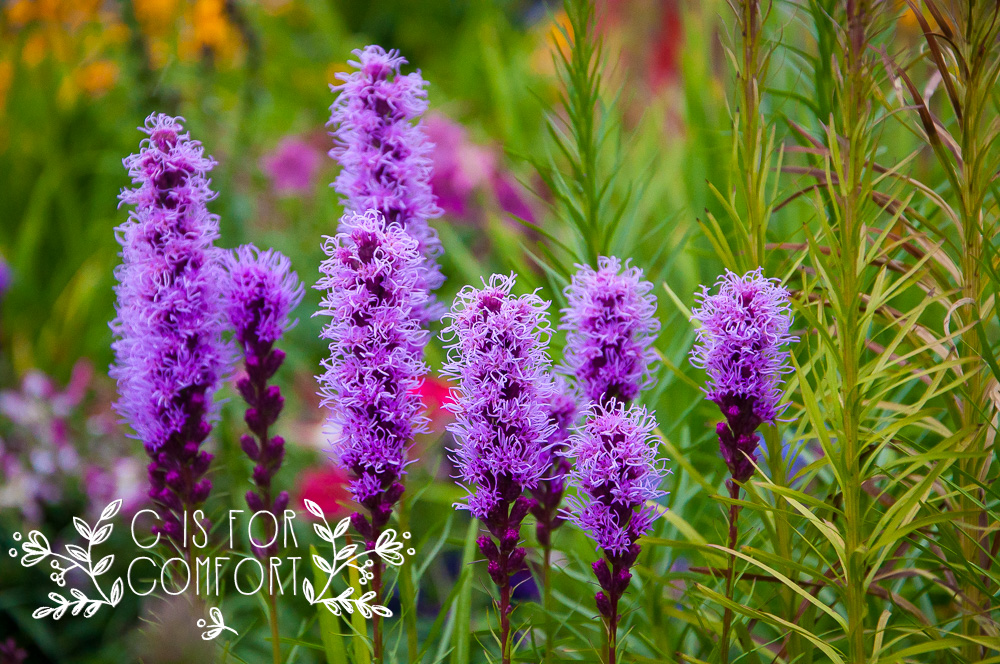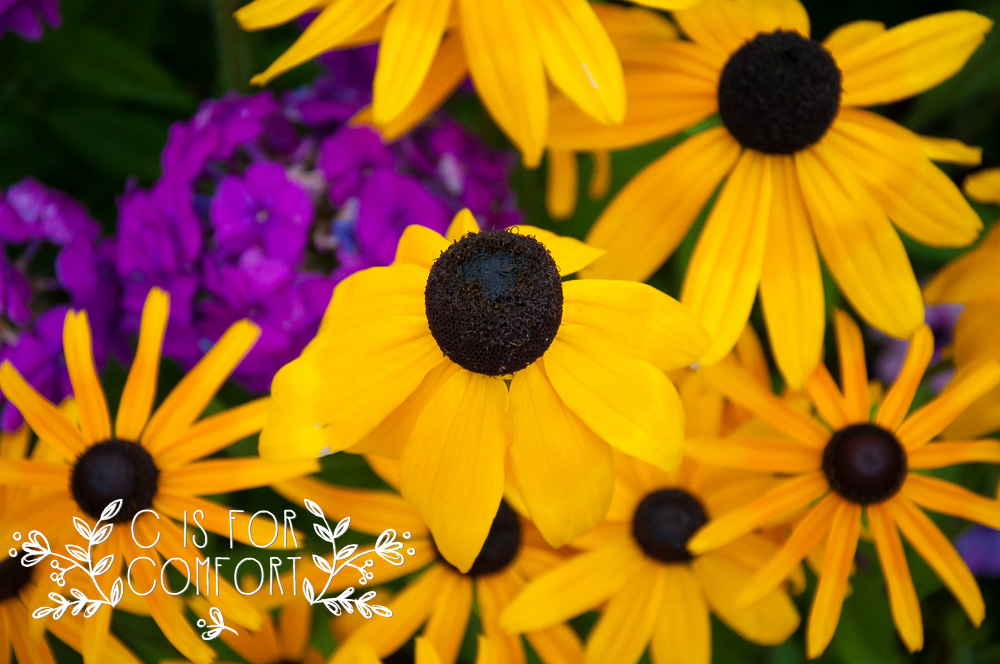 Once we were back, we set to making dinner.  However, someone stole our fish!  They also connected and drained the battery on our boat.  The kids tried to catch us some while Nate prepared dinner, but they were only able to get little ones that we released.  After dinner, Nate went to get a new battery from the office.  Once he got back, he set off in the boat to the main dock.  I sat at the edge of the water under an umbrella with the kids for a little bit before heading back to the campsite.  I was going to drive around to pick him up and then we would drop off the vests and the battery together.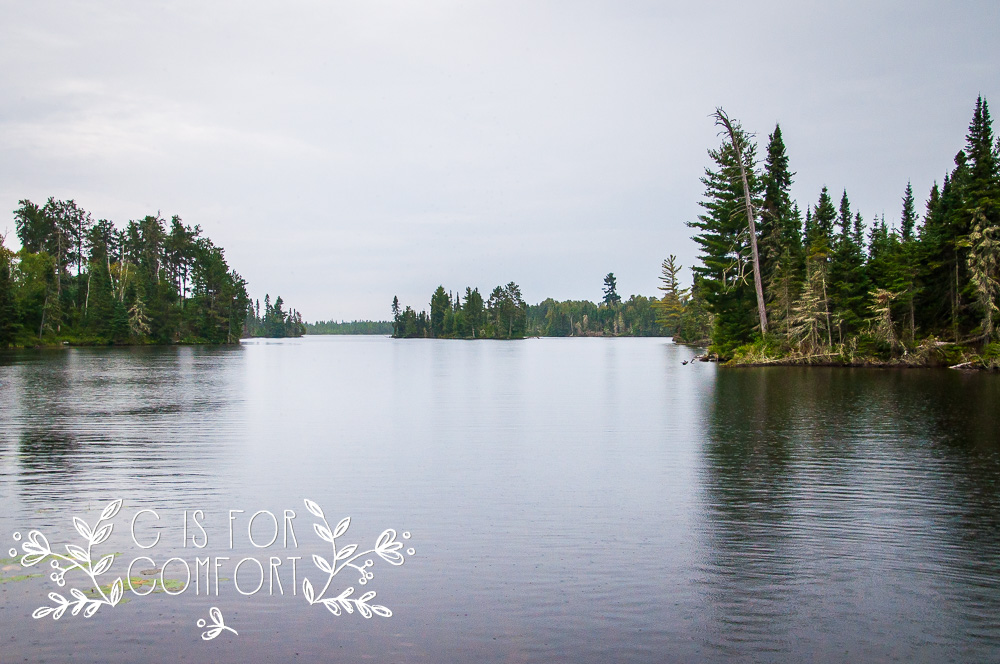 However, once I got to the van, it was locked, and I realized that Nate had the keys with him.  It was getting dark fast.  I ran down to get the children from the edge of the lake.  I brought them back to the campsite and got them settled in the tent.  I told them to stay together at all times and not to leave unless they had to go to the bathroom.  I grabbed my lantern and my umbrella and set off on the long walk around the lake.  Walking in the dark, in the woods alone, I was a little scared.  I had encountered a bear as a child up close and I didn't want that to happen again.  I sang out loud as I walked along to alert any wildlife of my presence.  Once I arrived at a dock that was across the lake from the boat launch, I started calling out Nate's name.  I didn't see him or hear him.
It was pouring heavily.  I had three options:
Walk around the lake toward the boat dock in hopes of finding Nate.
Walk up towards the office in hopes that I might find him along the way.
Head back to the children.
I felt like walking around the lake was a waste of time.  He didn't hear me calling, so chances are, he had started to walk back to the office himself.  I could go back to the children, but at least I knew they were safe, dry and together in the tent with the other lantern.  Nate was out there, alone, in the dark and the cold, heavy rain.  I decided to head toward the office.  I walked up the trail, stopping at intersections to call out for Nate.
After walking up the long road to the ranger's office for a way, I saw a man walking toward me.  I hoped that it was Nate, but his size was smaller and thinner than Nate's tall, muscular shape.  I paused as he approached me.
"Excuse me, sir, Have you seen another man walking on this road recently?"
"No, I'm sorry.  I haven't seen anyone."
I thanked him and continued the walk to the office.  I could see it's lights glowing in the distance.  Inside was a bright, warm, dry relief.  The ranger on duty had seen Nate about 20-30 minutes prior.  My heart sank.  Nate had probably taken the far road back to the campsite after walking up there with the motor.  It was the opposite side of the park that I had been on.  I thanked him and took a deep breath before heading back out into the dark.  I walked swiftly along the road, the temperature had dropped and the rain that was blown sideways by the wind had gotten my lower half wet.  I was tired and chilly, too cold to loudly sing away the bears.  I did so anyway, intermittently, in a voice quavering with shivers.
After a while, I noticed headlights approaching in the distance.  As they got closer, hope sprang to my lips in a smile.  It was our van.  Nate had come to rescue me.  I happily climbed into the warmth where the heat and seat warmers were already on.
It turns out that after Nate had been waiting a couple minutes, he got bored and put his hands in his pockets, realizing he still had the keys.  He groaned and started the long walk with the heavy boat motor.  Thankfully, he is strong from his manual labor at his job.  He had the same thoughts running through his head that I had, what if I should happen upon a bear?  He thought he might kick it in the face.  I laughed because Nate taking on a bear with a boat motor and kicking a bear seemed like a not so safe idea.  He is tall like Paul Bunyan though, so perhaps it would be enough to scare one away.  He had walked the far way home and found the kids.  After making sure they were ok, he set out looking for me in the van.  He stopped along the lake and intersections as I had for him, calling out my name.  We were always on opposite sides of the park.  So although I was trying to be the hero, I ended up needing a hero myself.  It was a silly situation all around.
Do you go fishing as a family?  Who usually catches the most fish?
Check out our video!

Continue on to Camping, Day 5!
https://cisforcomfort.com/went-2341-feet-underground/
Did you miss Day 3?  Read about it here!
https://cisforcomfort.com/checking-ely-minnesota/