Shea butter is an amazing all natural, non-toxic alternative to chemical lotions and lip balms.  On its own, it nourishes and heals your skin.  It's affordable, easy to use, and smells amazing. There are so many reasons for everyone to utilize shea butter.
Shea Butter Facts
What Is Shea Butter?
Shea butter is a fat extracted from the nut of the African shea tree.
Where Does Shea Butter Come From?
As you might have guessed, since shea is from the African Shea Tree, it does originate in Africa.
Shea Butter Nutritional Information
Vitamins A & E
Healthy Saturated Fats: Derived mainly from stearic acid and oleic acid.
Contains phenols-the same antioxidants found in green tea.
Health and Beauty Benefits of Shea Butter
Anti-inflammatory
Non-comedogenic
SPF 6-10
Moisturizing
Tips For Buying Shea Butter
Look for:
Raw and unrefined.  Refined shea butter has many of the beneficial elements removed.  
Ethically sourced.  The harvesting and creation of shea butter is usually done by a community.  Purchasing from a small, reputable source is usually best.  Look for their story of how, where and by whom it's made.  This supports small farmers, families, and communities and also ensures that they get paid a fair wage.  Plus, chances are, they use the shea butter too and will care about the quality and condition of their product!  
A Product that ISN'T white.  Raw and healthy shea butter will have a yellowish hue.  Like cow's milk butter, sometimes it's a rich, bright yellow, sometimes it's a pale pastel yellow.  The shade will vary depending on the region and shea itself, but it should never be white unless it was processed.  
A warm, earthy scent.  Scentless shea is usually processed.  For processed shea, scentless is usually the "best" processed shea, often, you'll find it more likely has chemical undertones.  Don't look for scentless!  This is a keyword for processed!
Shea Butter Allergy Concerns
Shea butter is derived from the shea nut. If you have a nut allergy, use caution.
If you buy a refined version of shea butter, you run the risk of exposure to chemicals.
How To Store
Shea butter has a shelf life of about 24 months. It may last longer but may become less effective over time.
Keep in a cool, dark, dry place for storage. I keep mine in the original bag it came in, in my closet. I also portion some of it into a small glass jar for use and keep it in my nightstand.
Shea butter will smell nutty and smokey when fresh. If your shea butter goes bad, it will smell rancid. You will probably gag and have no doubt that it is bad. I've kept mine fresh for several years, but if you're worried, you can always store yours in the fridge to help it last even longer. Use a glass jar to keep out unwanted fridge odors.
Note-I live is a cold climate where we have winter 7-9 months of the year. If you live in a warmer climate, you might want to store yours in the fridge.
Shea Butter Basic Uses | 21 Ways to Use Shea Butter Plain
Dry Hands
Dry Feet
Dry Lips
Facial Moisturizer
After Shave Cream
Baby Bums
Massage Rub
Cuticle Cream
Sun Screen Lotion
Hair Mask
Stretch Mark Cream
Pregnant Belly Rub
Cracked Skin Repair
Baby Lotion
Chapped Cheeks
Sore Nose From A Cold
Eczema Soother
Dry Elbows
Dry Knees
Scar Repair
Insect Bites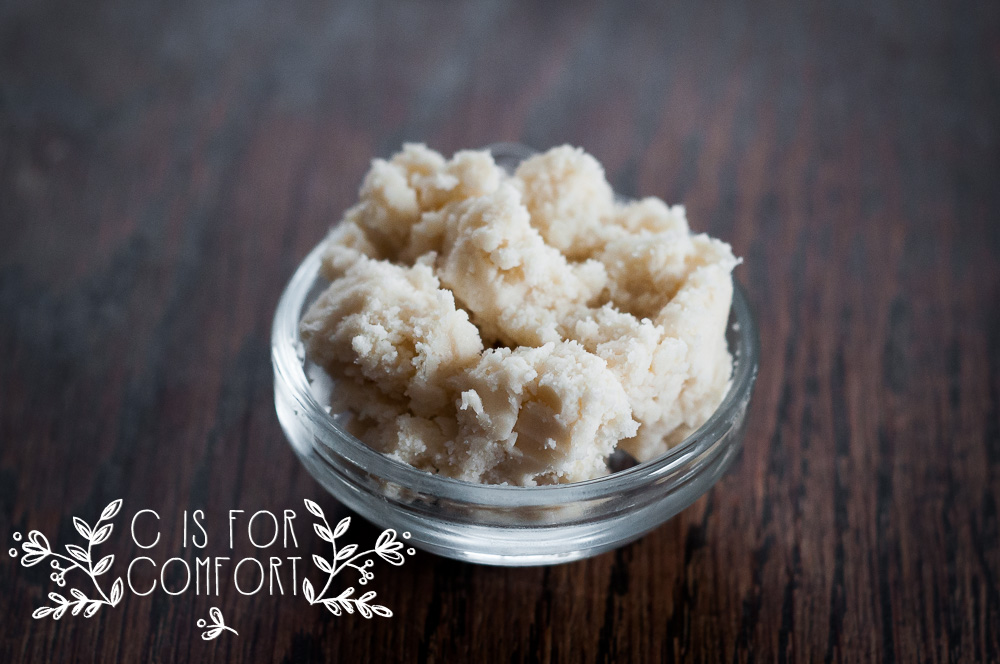 Shea Butter Recipes
References
http://www.vitaminstuff.com/supplements-shea-butter.html
https://en.wikipedia.org/wiki/Shea_butter
https://en.wikipedia.org/wiki/Vitellaria
https://www.researchgate.net/publication/258826779_Nutritional_Composition_of_Shea_Products_and_Chemical_Properties_of_Shea_Butter_A_Review
hhttps://bettersheabutter.com/