5 Week Workout Challenge: Week 4, Day 2
Historic Fort Snelling
Today we visited Fort Snelling.  My parents, my sisters Shannon and Liz and Liz's boyfriend Jimmy had a lot of fun!  We've been here many times and every time I find something new to enjoy.
Although I've always visited Fort Snelling as a tourist, my Dad visited as a child, before it was restored as a historic landmark.  When he was a child, his uncle and cousins lived here!
Fort Snelling has always been one of my sister Liz's favorite places.  Since she was a child, she's always loved the cannon blast.  That might be because, when she was little, my Dad used to tell her that they set it off just for her.
After hearing the cannons go off, we went to get root beer and cream soda for the non-allergy people.  Then, we practiced walking on stilts.  My Dad was the best, to everyone's amazement.
We checked out some of the usual buildings, like the tower and the schoolhouse, but my favorite was the medical rooms.  There were some new displays that I haven't seen before.  I especially got a kick out of the weather diary.  The climate here was judged "the most excessive among all military posts in The United States."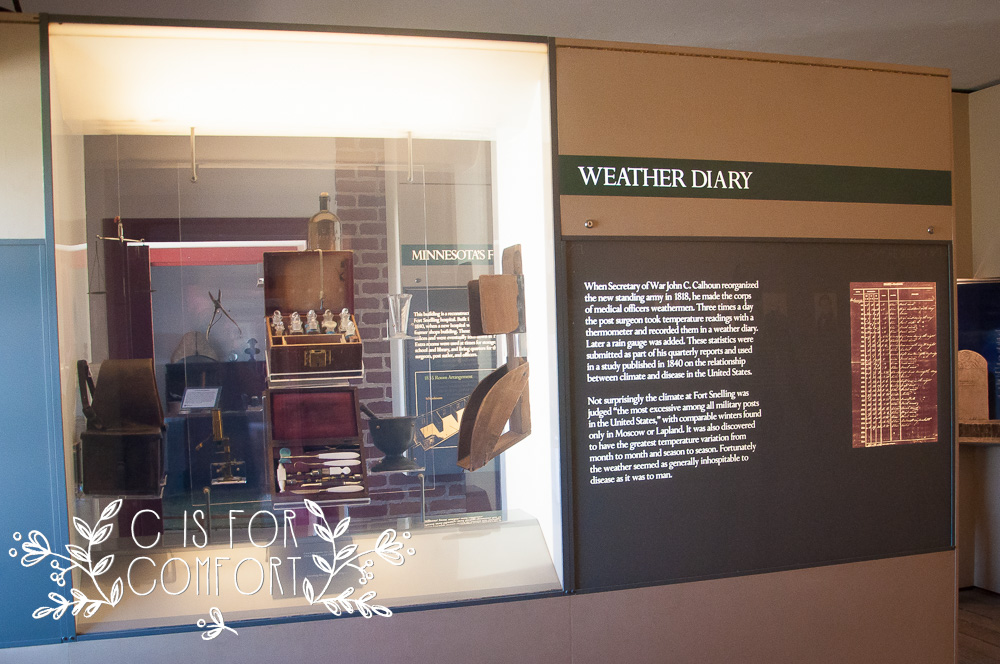 Liz, Jimmy and the kids had great fun making star wands in the arts and crafts building.  Liz has always excelled in making a four-sided star.  In usual tradition, she gave her star to the youngest in our family, Princess.  Jimmy was kind enough to give his star to Mr. Awesome.
After we were done for the day, we cooled off inside the gift shop and art gallery area before heading to our cars.  This year's exhibit was a display of beautiful photography by Paul Kitagaki.  Accompanying the portraits were moving stories of families and people who had lived through the Japanese internment.  There was also a fascinating display of old clocks.
Later that night, we met up with my friend Joleen and her son Drake for fireworks at our local golf course.  It was a lovely evening.  The fireworks were beautiful and seemed to be right on top of us.  It was the perfect finish to a fun day.
Have you been to Fort Snelling?  What is your favorite part?  What historic sites are near your home?  I'd love to hear about it, share a link to your blog post in the comments!
Check out our video!
5 Week Workout Challenge
Previous Week: Week 4, Day 1: Morning Workout
Next Week: Week 4, Day 3: Night Walk Date