Checking Out Ely, Minnesota
3rd Day of Camping
I woke up to the sun making glowing shadows on the roof of our tent as it passed through the leaves on the trees.  Already I could feel the sun warming the chilly air.
Since it was so lovely, we thought it would be a perfect day to explore Grand Marais.  We had a fun day checking out all of the little shops.   I would have loved to have stopped at every shop, but there just wasn't enough time!
I got an amethyst bracelet at a rock store, Loony's Northwoods Emporium.  Each child got to pick out a rock of their choice.   We also visited Ely's Old Fashioned Candy where we got a bunch of rare (for us) treats.  I was thrilled to be able to visit Jim Brandenberg's Art gallery.  At the local Goodwill, Cupcake and I got a few books, Princess got a few sweaters and a cute pair of sandals.  Nate found 4 packs of kinetic sand for 99 cents.  Mr. Awesome found a toy airplane.
In between two cute shops (Mealey's Gift & Sauna Shops), there was a well-maintained flower garden with a waterfall and fish pond hiding in the corner.  It reminded me of the fish pond my Grandpa used to have in his backyard.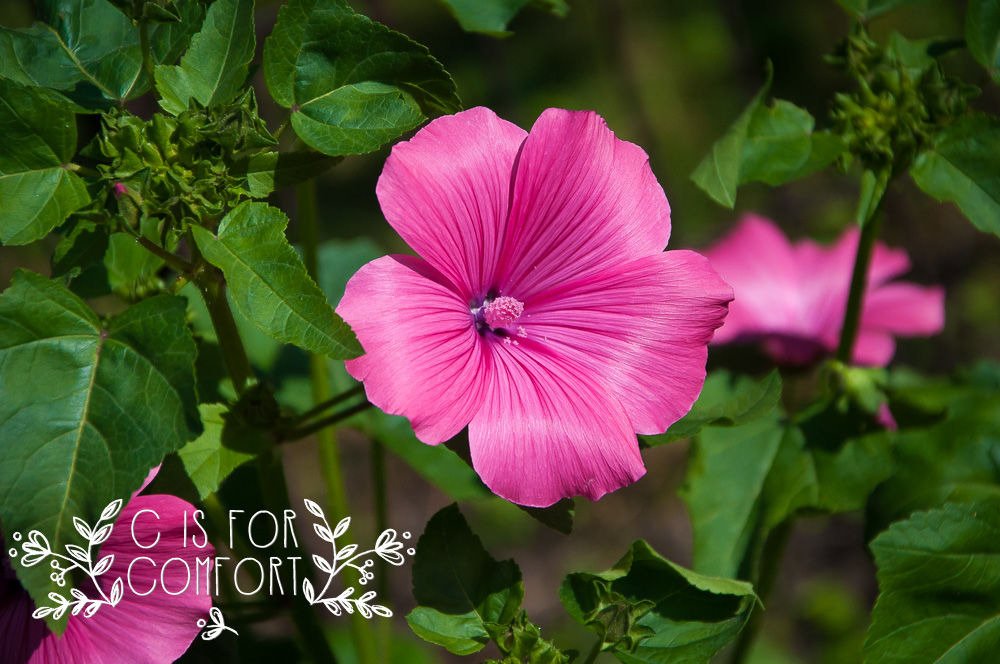 On the recommendation of the receptionist at the Brandenburg gallery, we decided to visit Kawishiwi Falls.  Since we still had some 5 Week Workout Challenge days left, I thought it was a great idea!  Plus, getting to explore another waterfall sounded like a lot of fun.
The hike was quite beautiful.  It was a short 1.5-mile hike.  There were large boulders everywhere.  Birch trees grew on and around the large rocks, their roots hugging them like cozy pillows.  Planks made paths through the low ground where it probably gets muddy when it rains.
Climbing the last hill before the falls, we could hear the roar of the water as it tumbled down the rocks.  Once at the top, the view was breathtaking.  If we didn't have the little ones, getting closer to the water might have been a neat area to explore.
After our hike, we went back into town to see the local farmer's market.  It was in the town's park and slightly larger than our farmer's market.  There was a lot of stands set up selling a large variety of goods.  For people who didn't have cash, they had a stand set up selling wooden chips to pay vendors.  We saw candles, kombucha, fermented foods, jams, fruits, veggies, live music, maple syrup, carved wooden spoons, handmade bath and beauty products, a stand advertising the U of M dental school, and more!  It was almost like a small fair!
The kids found a painted rock and hid it for someone else to find.  We're always excited to find rocks.  This one had a fish on one side and said Ely Rocks FB on the back.
After the Farmer's Market, we picked up some tent sealer to make sure our tent was leakproof.  The forecast predicted rain on Wednesday and we wanted to be sure we were dry.  While there I found a cute mug that has a moose on it and the words Ely, MN.  I like useful souvenirs.  It was another fun day of vacation!
Have you been to Ely, Minnesota?  What's your favorite thing to do there?
Check out our video!

5 Week Workout Challenge
Previous Day: Week 5, Day 1: Schaar's Bluff
Next Day: Week 5, Day 3: Norberg Trail
Continue on to camping, day 4!
https://cisforcomfort.com/4-year-old-caught-fish/
Did you miss day 2?
Read all about it here!
https://cisforcomfort.com/locked-keys-van/