The Best Gluten-Free, Egg-Free Waffles Ever
If you have celiac disease or you're gluten intolerant, you might be on the hunt for the perfect waffle recipe.  I might be a bit biased, but these waffles are pretty awesome.  They're light, crispy on the outside and fluffy on the inside.
I love waffles!  When we were driving from Minnesota to Florida a few years ago, we saw Waffle House restaurants in every town!  We started counting as we went along and there were so many that we eventually lost count and gave up.  It just goes to prove, however, that there are waffle lovers everywhere!
I have got to tell you, in the beginning, I failed miserably at recreating bread products.  My loaves of bread were soggy and dense and would turn hard as a rock.  Yuck.  Thankfully I've since worked out my bread issues.
I did, however, make a wonderful waffle!  Right from the beginning, this waffle recipe was easy and delicious.  My waffles turned out fluffy and melt in your mouth good.
Before I took the time to figure out my errors in bread making, I simply made gluten-free, egg-free waffles.  I would make a double or quadruple batch and freeze a bunch so I could grab them for snacks.  I used them for sandwiches, I used them for dessert.  I ate them with hummus.  I had no idea waffles could be so versatile!
Please don't be overwhelmed to actually try bread, but if you are in a pinch for time or need an easy and quick bread, this gluten-free, egg-free waffle just might be the recipe for you.
Do you love to use waffles for everything?  What's your favorite way to eat them?  Let me know in the comments!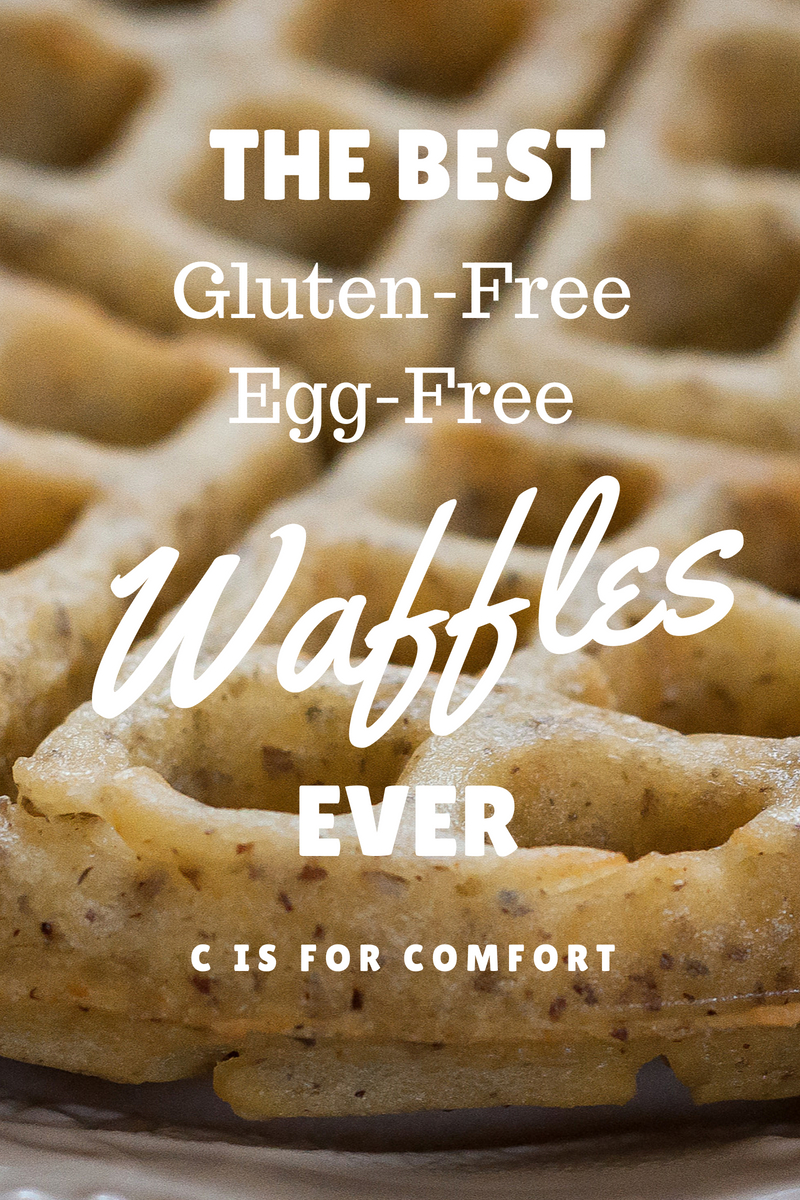 Recipe
Dry Ingredients
3 1/2 cups gluten-free flour blend
6 TBSP flax
2 TBSP chia seeds (ground or whole)
1/2 tsp pink Himalayan sea salt
1 tsp baking soda
1 tsp cream of tartar
Wet Ingredients
1 cup olive oil
3 1/2 cups coconut milk
Preparation
Add dry ingredients to a large bowl.  Blend thoroughly with a whisk.  Add wet ingredients and whip until well blended.  Preheat waffle iron.  Grease with butter or coconut oil.  Add 1 cup of the recipe to the waffle iron.  Cook on medium-high for 7 minutes.  Serve with favorite toppings!
Breakfast Topping Ideas
100% grass-fed butter or ghee
100% pure maple syrup
berries
jam
homemade whipped cream
Lunch Ideas
Grilled Cheese
Hummus
Portabella Burger
Grilled Veggies
Classic Sandwich
Avocado
With Soup