When the weather gets drier, I love to make meringue cookies.  I decided to try something new when I discovered Pavlovas.  Ohhh my goodness, just looking at one makes my mouth water!  Three layers of crispy meringue frosted with fluffy mounds of whipped cream, sprinkled with shaved chocolate and topped with a tangy fruit, this is one desert guaranteed to please.  The best part is, it is gluten free, corn free and if you use coconut milk for whipped cream, it can even be dairy free!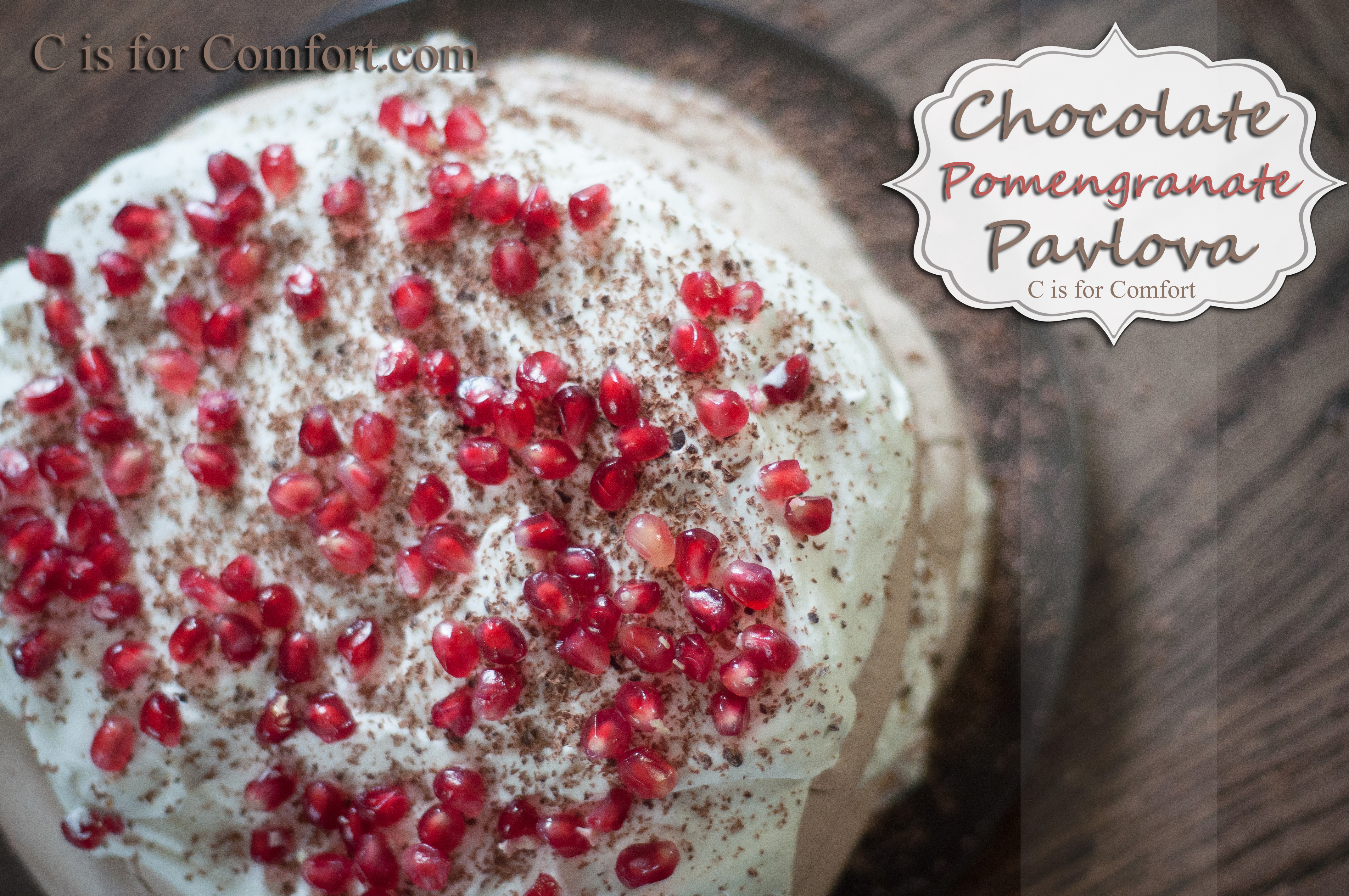 When I made this, I thought for sure that we would gobble it up.  Although it is not overpoweringly sweet, it is rich and surprisingly filling!  The children and I agreed that we should share it with our neighbors.  We cut half the cake for them to enjoy, then had the rest for dessert.  😉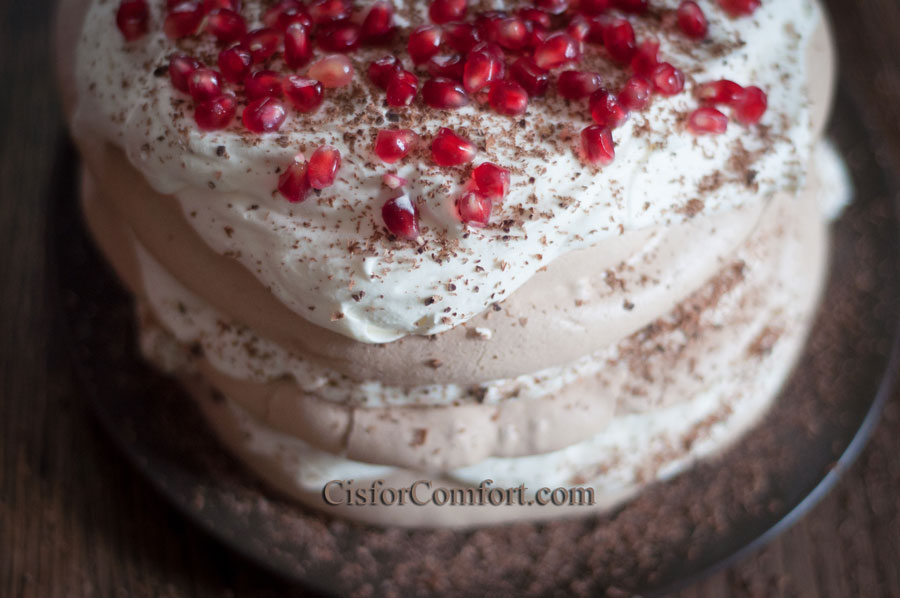 Some desserts get stale or lose flavor as they sit out.  Surprisingly, this is a treat that only gets better with time.  As it sat, the crunchy crust of the meringue softened slightly to become chewy and melted in my mouth that much more.  Who knew?!
As a side note, if you want to save the yolks, you can make mayo too!
Chocolate Pomegranate Pavlova
6-8 large egg whites(1 cup) at room temperature
pinch of cream of tartar
2 cups sugar
3 tbsp cocoa powder
1 pint heavy whipping cream
1/4 cup powdered sugar
1 seeded pomegranate
parchment paper
Directions
1.Preheat oven to 300 degrees.
2.In a large glass or metal mixing bowl, whip egg whites and cream of tartar till peaks form.
3.Slowly add 2 cups of sugar and cocoa till blended.
4.Line 2 cookie sheet with parchment paper.  Place 3 small plates of about 8 inches on parchment paper and lightly trace with a pencil.  Remove plates.
5.Spoon the meringue onto the circles and slowly spread until a nice thick layer is formed.  Extra meringue can be spooned into mini cookies on 2nd cookie sheet.
6.Bake for 60-75 minutes.  Crack oven and let cool.
7.While waiting, blend heavy whipping cream and powdered sugar till fluffy.
8.Carefully remove one giant meringue cookie from parchment and place on platter.
9.Spoon 1/3 whipped cream onto first meringue cookie and spread evenly to edges.
10.Carefully remove second giant meringue cookie from parchment and place on top.
11.Spoon half remaining whipped cream on top of 2nd cookie.
12.Carefully remove last giant meringue cookie from parchment and place on top.
13.Spoon remaining whipped cream on top and spread evenly.
14.Sprinkle with cocoa powder.
15.Top with a generous helping of pomegranate.