Dreams Don't Work Unless You Do
What are your dreams? What are you doing to achieve them?
This has been my motivational quote this past week. I have my dreams, I want to get there, but I've got to do the work. All the planning in the world won't matter without action. Work, good hard work is the only thing that's going to push a someday dream into a NOW reality. Procrastinating, little time wasters, self-indulging, self-doubt, these are the things that slow progress. 
What else is holding you back?  What else can you do to move forward?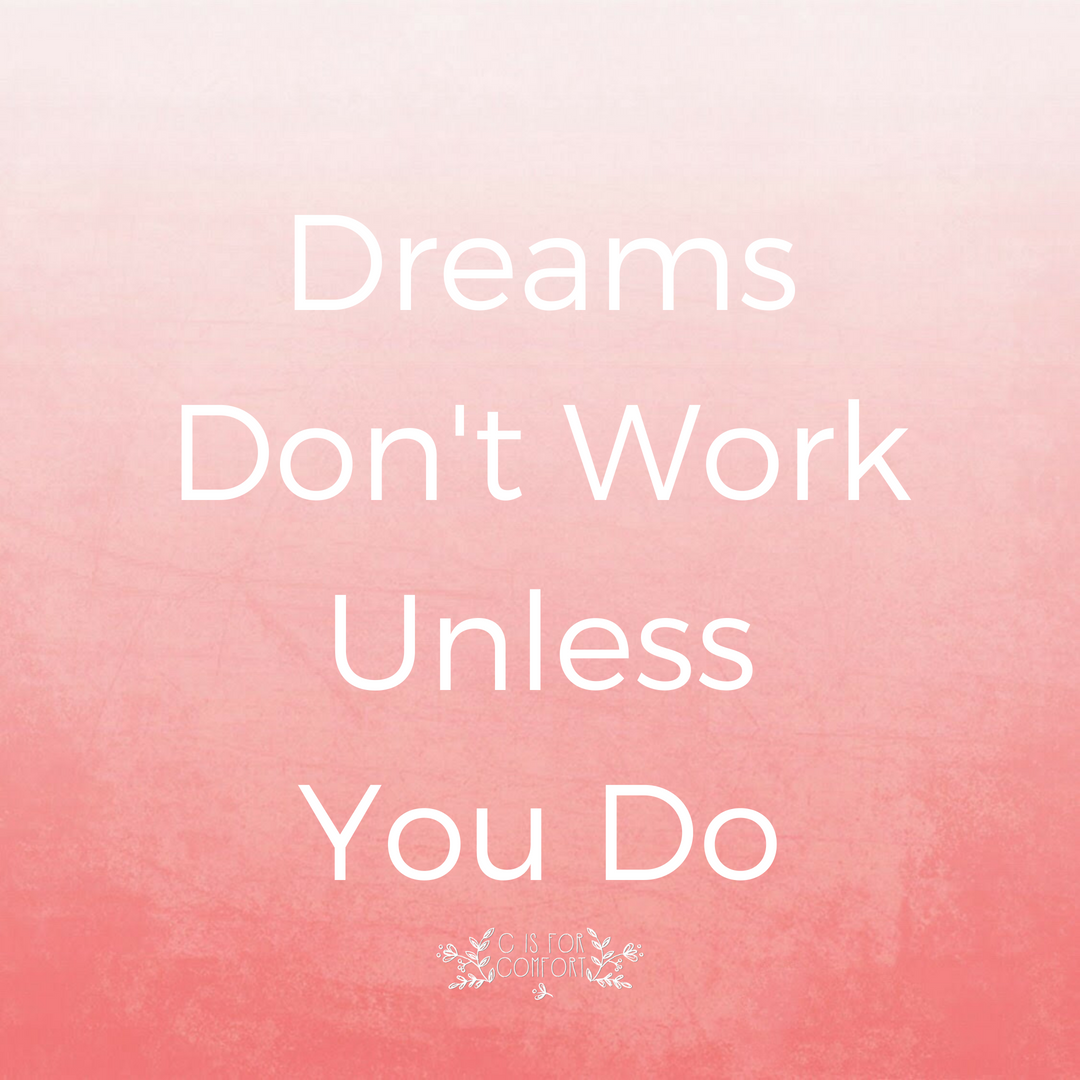 I love lists, I am the queen of list making in our house.  All the lists in the world won't matter without action though.  They help organize the action, yes, but they are just a tool.
I have all of these desires, dreams, projects, but until I take action, they are mere whimsy.  They are an idea.  They are a someday.  They are imagination.
You have a goal in mind.  You have this burning desire.  You ache for the fulfillment of this worthy goal.  How bad do you really want it?
Are you willing to take action?  Are you willing to do the work?  Are you willing to take the necessary steps and MOVE FORWARD?
Ask Yourself These Questions
What is your end goal?
What are the big steps to get there?
How can you break those big steps down into manageable steps?
Is this dream in line with God's way of thinking?
Can I picture Jesus doing what I plan on doing?
What is the FIRST thing you are going to do to get started TODAY?
Is there something you don't know how to do that is preventing you from moving forward?  Google it!  YouTube it!  Pray about it!  Bible it!   Research it like crazy until you get it!
Is fear holding you back?  Pray, pray, pray, every single day!  Ask for bravery, ask for motivation, ask for God's wisdom, ask for forgiveness, thank him for His guidance.  Ask to be molded to his ways and to reflect his good qualities.  Jehovah is a God of action.
Now most importantly, get to work.  Get up, get moving, take steps, big or small.  Every. Single. Day.
Believe in yourself.  You can do this.  You've got it.
Dreams don't work unless you do.