Swimming By The Ruins of an Old Mill
5 Week Workout Challenge: Week 2, Day 2
Old Mill Park
Nate has been working on the RV a lot recently.  He took off a week of work and spent most of that time taking off the old roof and damaged wood and rebuilding it.  By taking the kids on hikes, I can keep them out of the way while the debris is on the ground.  At the end of the day, I help him clean up the garbage and put the tarp back on.  I plan on making a few posts on the progress he's made.
Since it was a hot day, I let the kids wear swimming suits for our hike.  With swimming on their little minds, the idea of a hot hike to view the falls was not an exciting prospect.  They were little troopers and made the whole hike there and back before making our way down to the river.
Getting from the top of the cliff down to the river is not an easy feat.  It's not extremely difficult, but it's also not an easy climb.  There are two ways down, one is through the debris of the old mill.  The other is down some very small wooden steps.  The wooden steps end and leave one to slowly work down the rocks that have become smooth and slippery from frequent visitors.
Once you arrive at the bottom, the view is breathtaking.  The river is bordered by tall limestone cliffs.  On one side, the old mill towers into the sky.  It's amazing that it's still standing after a fire 123 years ago.  If you look close enough, you can see charred wood on some of the pieces up higher on the wall.  I can only imagine, that if it hadn't been burned by arsonists, it would still be a beautiful and impressive building today.
The kids had a lot of fun playing in the water, building sand castles and relaxing in the cool water.  We found a spot in the rocks where a small spring trickles down to the river.  Cat found a little creature that may have been a baby crayfish.  Mr. Awesome built it a giant wall so it would have more space to move about in.
This is one of our favorite spots to visit and we recommend it for all ages.  There are parking lots on both the side of the falls and the ruins which make it easy for a short walk to a view.  Most of the paths are asphalt and easy to walk.  We took a few off road paths on this day since we are more familiar with the area.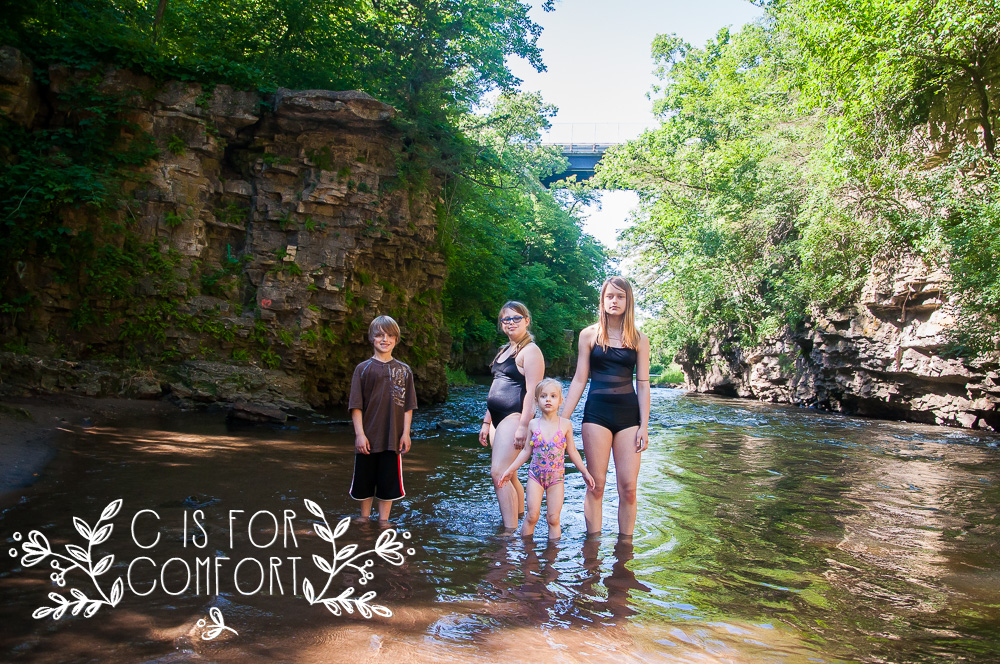 Have you been to see the Vermillion Falls of the old mill ruins?  Let us know in the comments!
Basic Park Info: http://www.hastingsmn.gov/Home/Components/FacilityDirectory/FacilityDirectory/76/485
All Trails: https://www.alltrails.com/trail/us/minnesota/vermillion-river-old-mill-park-to-vermillion-slough
5 Week Workout Challenge
Previous Day: Week 2, Day 1: Workout At Home
Next Day: Week 2, Day 3: Challenge at Home