My First Time Planking!
5 Week Workout Challenge: Week 2, Day 3
We tried something new for this workout!  We challenged ourselves with sit ups, push ups and planks.  It was a lot of fun!
Unfortunately, there was a camera glitch for sit ups, so my sit ups were not filmed.  I did reach my goal though!  The kids all did awesome jobs and were really excited about challenging themselves.  I think we might give this another try in the future.
We probably did not do the exercises as they should be done, but that's ok.  My goal was to get the kids excited about exercising and work out.  We can work on being more precise as we become more experienced.
Having never done a plank before, I was shocked at how difficult they are!  They appear incredibly easy!  I even looked up the average plank time.  This article suggests that two minutes is a good goal, so that's what I set mine as.  I did not even get close!  Perhaps in the future, I'll be able to work my way up to a minute!  Haha!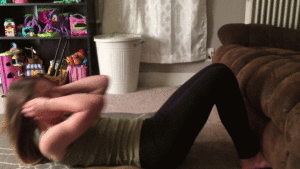 Sit Ups
Name-Goal-Completed
Melissa-40-40
Cat-45-50
Cupcake-25-25
Mr.Awesome-42-81
Princess-A Lot-18
Push Ups
Name-Goal-Completed
Melissa-15-15
Cat-25-25
Cupcake-10-11
Mr.Awesome-30-14
Princess-A Lot-10
Planks
Name-Goal-Completed
Melissa-2 mins-20 sec
Cat-2mins, 30sec-1min 30sec
Cupcake-1min-1min 30sec
Mr.Awesome-5min-2min 41sec
Princess-1min-1min 22sec
Check out our video!
What is your favorite way to challenge yourself, or your children, in a workout?
5 Week Workout Challenge
Previous Day: Week 2, Day 2: Old Mill Park
Next Day: Week 2, Day 4: 2nd Plank Challenge